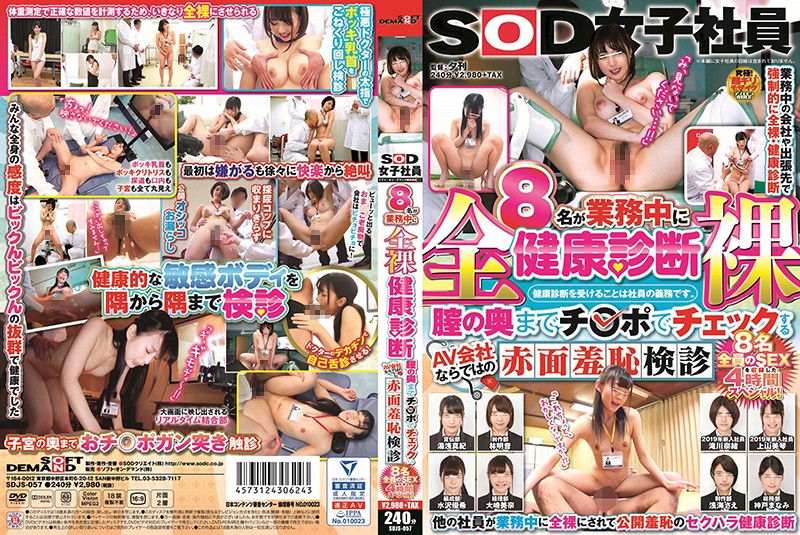 Information
HD [SDJS-057] SOD Female Employees 8 People During Work Naked Health Checkup 4 Hours Special That Recorded SEX Of All 8 People RedNess Shame Screening Unique To AV Company To Check In Chi-Po To The Back Of The Vagina!
Release Date: March 12, 2020
Recording time: 240 mins
Cast: Asami even Osaki Mina Takikawa Nao Hayashi Ayon Kobe Manami Kamiyama Mika Mizusawa Yuki Yuasa Maki
Director: Evening edition
Series: SOD Women's Employees
Maker: SOD Create
Label: SOD Female Employees
Genre: Shame OL Urination / Leak 4 Hours Or More Work Sample Video SOD Create Plus One
Reference: 1sdjs057
Average Rating: Reviews
Censored
Chinese Subtitles
Eight female employees who have not received a medical examination suddenly assault and take them! I had a checkup that was too embarrassing! If it is made to be completely naked, the upper body is palped firmly with the mouth and the hand. The urine collection test also confirms the urination, smell and taste on the spot. The female genitals were reflected on a large monitor and checked to the details, and even chi-po was examined to the uterus, and the health condition was recorded in detail!