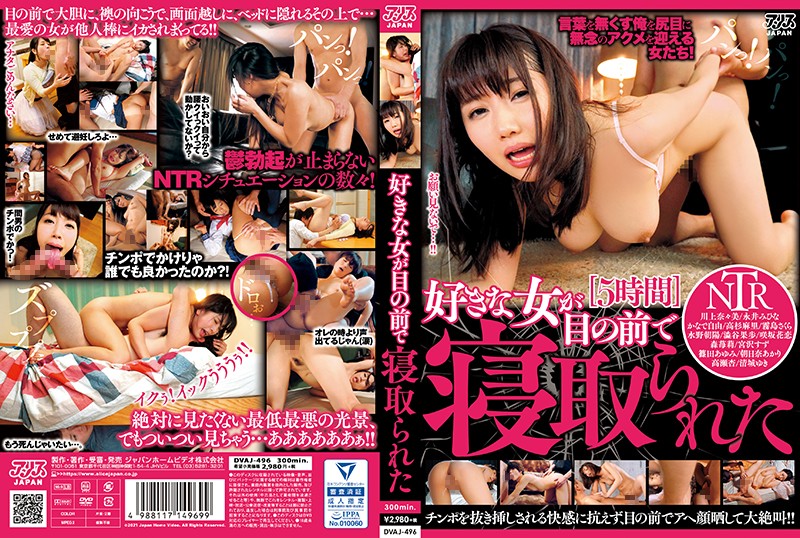 Information
HD [DVAJ-496] My favorite woman was cuckoded in front of me.
Release date: 2021/01/13
Length: 300 minutes
Cast: Kawakami Nanami Kana and Freedom Mari Takasugi Kirishima Sakura Kiyoshiro Yuki Takase An Asahina Akari Shinoda Ayumi Miyazawa Suzu Mori Ichiri ▼Show All
Director: Kanda Usagi
Series: ----
Maker: Alice JAPAN
Label: Alice JAPAN
Genre: Voyeur / Peep cuckold / Cuckold / NTR Out Best / Recap 4 hours or more Work Sample Video Winter BIG Sale
Reference: dvaj496so
Average rating: See reviews
A stick of others who breaks out in front of you... A high-ranging heartbeat... I collected sex where my favorite woman is cuckaled in front of me! Boldly in front of me, knowing that I was peeping from the back of the fusuma, I did not know that I was hiding under the bed ... A woman who likes in various NTR situations is by others and goes crazy with yoga! At first I was unpleasant, but the voice grew louder and louder, and I moved my waist from myself! ! Hey, did anyone get it with a cock?! A sight you definitely don't want to see seriously... But I'm going to watch it... Ah ah ah ah!!