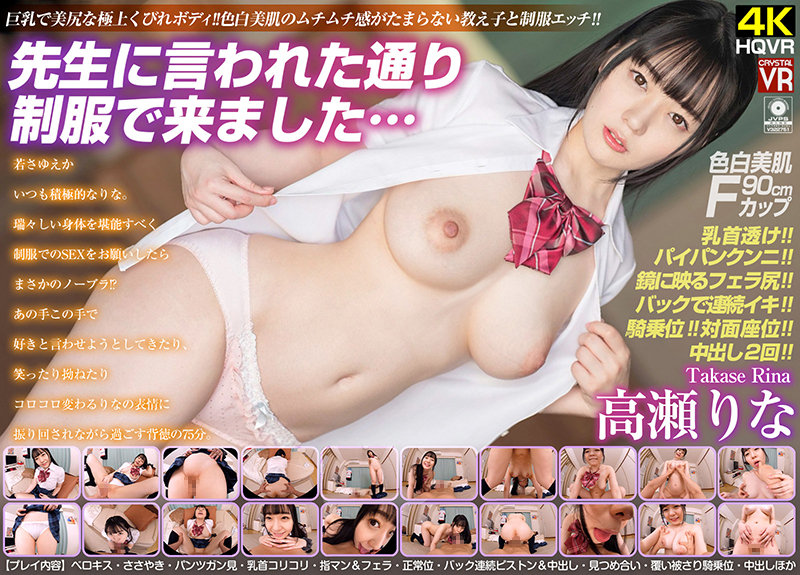 Information
Full HD [CRVR-238] 【VR】Lynase Takase I came in uniform as told by my seniors... Big and beautiful ass superb noose body! Uniform etch with juniors who can not enjoy the feeling of the skin with beautiful skin!
Published: 11/09/2021 10:00-
Product release date: 2021/09/11
Length: 63 mins
Cast: Lynase Takase
Director: 2008
Series: ----
Maker: CRYSTAL VR
Label: CRYSTAL VR
Content Type: 3D
Genre: Schoolgirl Big Tits Beautiful Girl Shaved Blowjob HandJown Cum Shot Single Work Subjective VR Exclusive High Quality VR Miniskia
Reference: h_1155crvr00238
[HQ version is high-quality VR of 4K + 60fps] [I came in uniform as told by the teacher ...] 2 is a cute busty girl with serious looking black hair. She is a very dangerous teacher who stirs up the urge to touch beautiful white skin. There was also a positive approach from her, so it didn't take long to get her hands on. Now it's a very convenient relationship to come home if you call at any time. To be able to play with such a cute and busty girl ... I think that the bee seems to hit someday and it is scary these days. [Play contents] pan show, Belokis, mumming & hand man,, finger man, paipunkunni, normal position, back, nipple lick, ass reflected in the mirror,, acrobatic, cowgirl position, covered cowgirl position, back cowgirl position, rear seating piston, face-to-face sitting position, (2 times) etc.