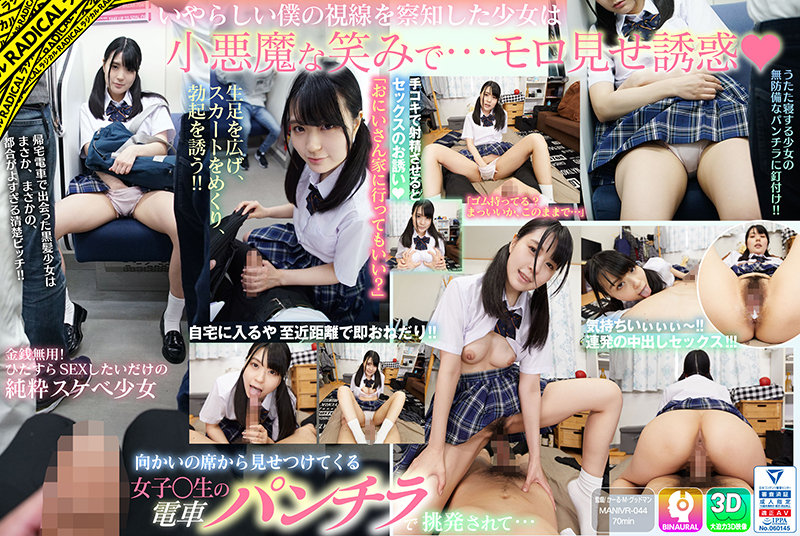 Information
Full HD [MANIVR-044] 【VR】Provoked by a female ○ student train panchira that is showed off from the opposite seat ...
Published: 2021/08/03
Product release date: 2021/08/03
Length: 70 minutes
Cast: Satori Fujinami
Director: Caru M. Goodman
Series: ----
Maker: RADIAL-KMPVR-
Label: Radical
Content Type: 3D
Genre: Single Work High Quality VR VR Exclusive Delivery Blowjob Beautiful Girl Panchira Cowgirl Inside Out
Reference: manivr00044
Average rating: See reviews
The man who rides the morning commuter train is a miniskir schoolgirl sitting across from it. The pants look chilly from the skirt of the sleeping schoolgirl and are excited. The eyes meet with the woman who woke up and it is an awkward atmosphere. Were you excited to see my pants? She just throws over the skirt and taunts panchira. It is secretly hand-made in the train and it outbursts unintentionally! ? In addition, the 0th female student came to the man's house! Enjoy healthy service play with flirting feet koki and pizuri! In addition raw saddle SEX! A piston that strikes in cowgirl position! Close-contact piston in the sleeping back! Finally, forbidden withdrawal!