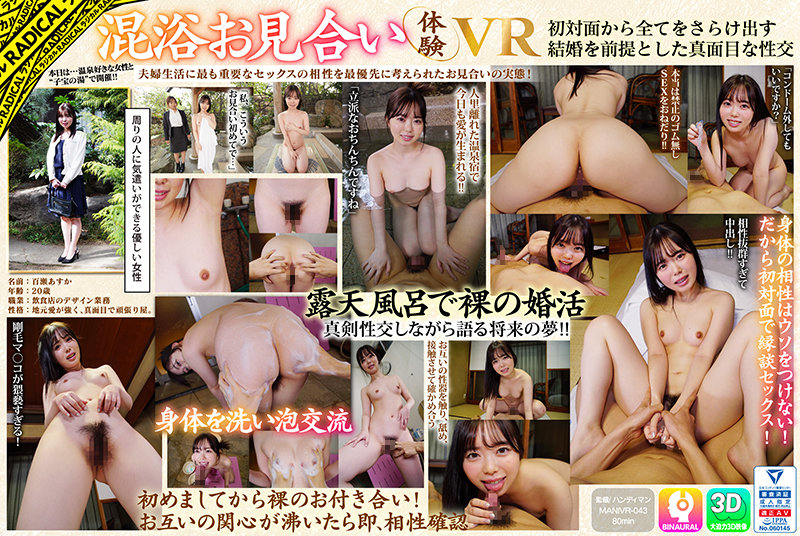 Information
Full HD [MANIVR-043] 【VR】Mixed bathing matchmaking experience VR Serious sexual intercourse on the premise of marriage that exposes everything from the first meeting
Published: 2021/08/03
Product release date: 2021/08/03
Length: 80 minutes
Cast: ----
Director: Handyman
Series: ----
Maker: RADIAL-KMPVR-
Label: Radical
Content Type: 3D
Genre: High Quality VR VR Exclusive Delivery Medium Delivery Planning Local Up Beautiful Girl Hot Spring
Reference: manivr00043
Average rating: See reviews
It existed in a certain area! ! I infiltrated a secret matchmaking that gave top priority to the compatibility of sex, which is the most important for marital life. This time, the cute lady who seems to have an obscene and strong libido is bristles that arranged mixed bathing in the open-air bath. , side, navel,, maco, etc... Carefully observe every corner of the body. Touch each other's genitals, lick them, and check the feel. In addition, insert a chipo and check compatibility with Ma ○ co!
"I want to know the true compatibility, so can I remove the condom?", and the love of the two deepens with the raw saddle request of the rule violation ....
Please enjoy love love marriage sex to discuss future dreams while seriously intercourse!