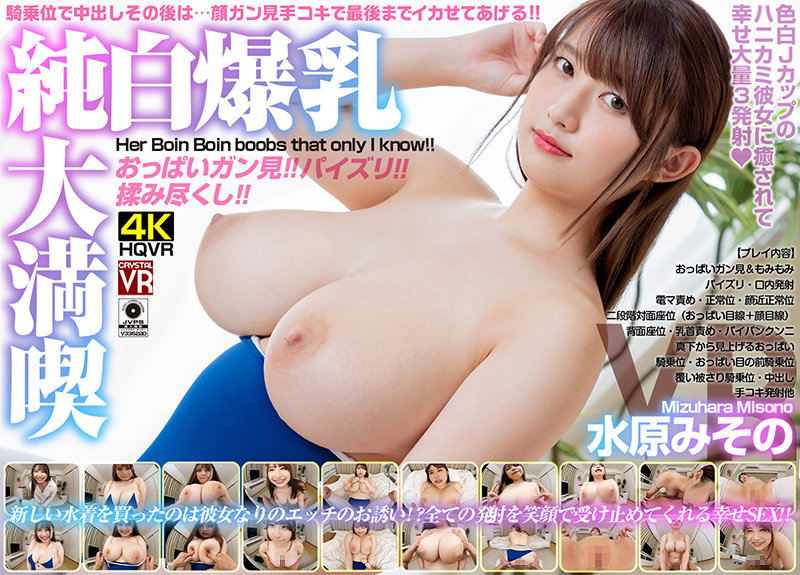 Information
[CRVR-247] 【VR】 Mizuhara Misora Cancer Watching! Fucking! I'm rubbing it! Pure white huge breasts large vr vaginal vaginal vaginal co-orcing after that ... I will guide you to the best ejaculation with face cancer sightjob!
Publish: 2021/10/19
Release date: 2021/10/19
Length: 60 mins
Cast: Mizuhara Miso
Director: Kurizo
Series: ----
Studio: CRYSTAL VR
Label: CRYSTAL VR
Content Type: 3D
Genre: High Quality VR Shaved Swimming School Swimsuit Knee Socks Fucking Blowjob Electric Horse Riding Position Busty Fetish Handjob Creampie Single Work Subjective VR Exclusive Big Tits
Reference: crvr00247
Average rating: View reviews
[HQ version is 4K + 60fps high-quality VR] I have a girlfriend who is living together. She is a lovely girlfriend with a gentle smile and big. Her name is 'Misa'. Even if it's summer, I spend every day at home. I've gotten a little tired of such a day. I want to go to the sea because it's summer! I want to go to the pool! Of what I think ... It is not possible to come true easily. One day, with a happy smile on my face and appearing in front of me, "Hey, I bought a swimsuit!" After all! I was happy to see her in a swimsuit while being embarrassed, and we smiled and asked for each other. Enjoy fair and white huge breasts at the normal position, face-to-face sitting position and cowgirl position! In particular, face-to-face sitting is two stages of eyes and face eyes! After plenty of vaginal vaginal vaginal... Happy handjom while looking at and a gentle smile! Vr handjom firing is also good. [Play contents] kiss, cancer look, momomi, neso,, mouth launch, electric massage, normal position, face near normality, eye face sitting position, back sitting position, eye face adhesion face face sitting position, adhesion nipple blame, shaved cunnililingus, cowgirl position, breasts front cowgirl, covered cowgirl,, firing from the face cancer looker koki, etc.