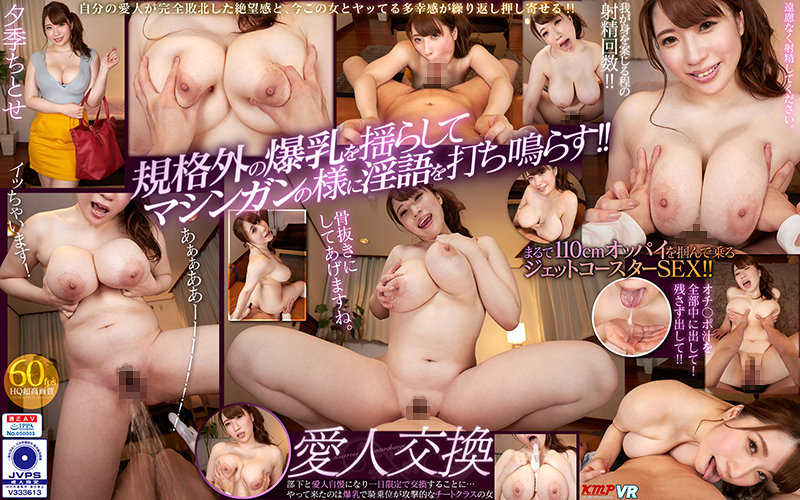 Information
[VRKM-383] 【VR】 Mistress Exchange Subordinates And Mistress To Be Proud And Exchange For A Day Only ... It came a woman of the cheat class whose cowgirl is aggressive with huge breasts Yuki Chitose
Publish: 2021/09/28
Release date: 2021/09/28
Length: 79 mins
Cast: Evening Season Chitose
Director: Kitchen Knife M
Series: ----
Studio: K.M. Produce
Label: KMPVR
Content Type: 3D
Genre: VR Exclusive Squirting Dirty Super Milk Affair Swapping Couple Exchange Single Piece High Quality VR
Reference: vrkm00383
Average rating: View reviews
Even this, I have a mistress.
One day, at a sake seat, it became a boast of a subordinate and mistress of a company who had a mistress in the same way.
"Manager, my mistress is amazing!" She's the best woman. If it's true, I'd like to break up with my wife and stick to her!"
Of course, I can't lose either.
Each other's mistress pride gradually heats up, and finally the mistresses are exchanged for a day only, and the taste comparison will be done with each other.
Then, on the day of the appointment, my subordinate's mistress came to the secret spear room that I borrowed secretly from my wife.
His name is Chitose. The best woman who shakes out-of-standard huge breasts and sounds dirty words like a machine gun! !
The sense of despair that my mistress was completely defeated and the euphoria that is yatsu with this woman now surge repeatedly! !
Roller coaster SEX that grabs and rides a 110 cm tits! ! And the number of ejaculations that I'm a problem with! !
After that day, my subordinates couldn't raise my head.