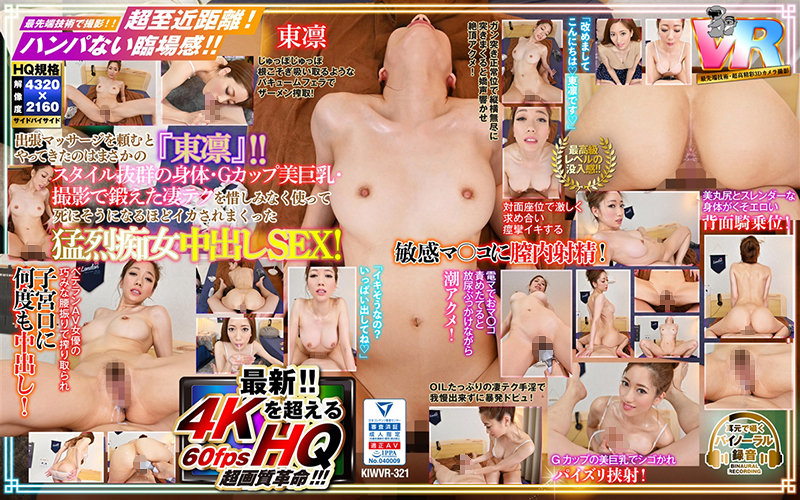 Information
Full HD [KIWVR-321] 【VR】 When I called a business trip massage, that famous AV actress [Higashirin] came! With amazing tech [mouth firing, handjom, pinching, blame, creampie] semen is exploited, and when you blame the sensitive body [pee climax! ] Mature woman's pheromones and [death in the belly with skillful technique] So intense hot SEX!
Publish Date: 2022/01/03
Release date: 2022/01/03
Length: 76 mins
Cast: Higashi Rin
Director: Kwatch
Series: AV Actress ○○○ Is Here
Studio: Koara VR
Label: Koara VR Pole
Content Type: 3D
Genre: Single Work High Quality VR VR Exclusive Older Sister Cum Inside Lotion Oil Massage Refre Slut Big Tits
Reference: h_1248kiwvr00321
Average rating: View reviews
[HQ/60fps super image quality revolution over 4K!!! When I asked for a business trip massage, I came a longing veteran AV actress [Torin]! Moreover, you serve too rich with amazing tech cultivated in AV! ! Too intense to vacuum... A barrage with rich and too much pleasure using beautiful big tits! Moreover, "No more ... I can not stand ..." The video of the supreme SEX * 60fps that experienced the transcendent waist swing of the longing married AV actress and was able to ejaculate in the vagina many times in the asoco is composed of the number of still images twice the normal per second, so it looks smoother than normal video. * HQ is a more precise image quality than 4K delivered at a resolution of 4320 ×2160 (side-by-side).