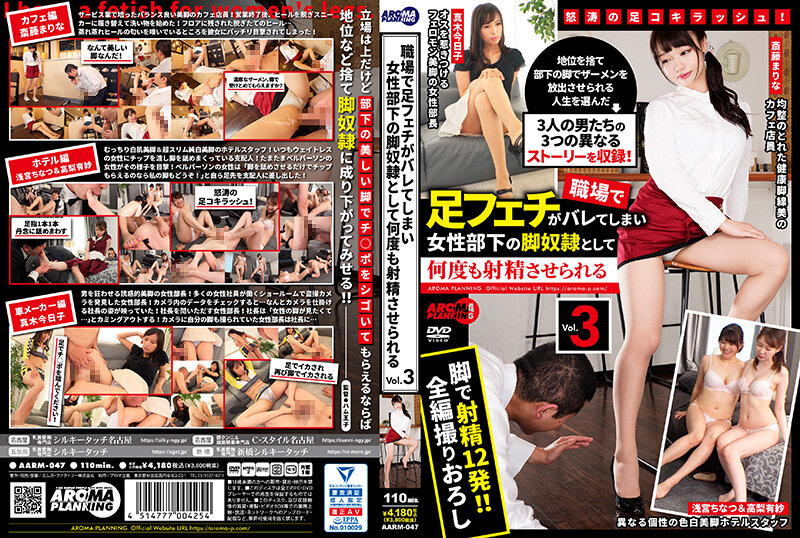 Information
[AARM-047] A foot fetish is barred at work and is ejaculated many times as a female subordinate's leg guy Vol.3 (Blu-ray Disc) (BOD)
Release date: 2022/03/18
Length: 110 mins
Cast: Maki Kyoko Saito Marina Takanashi Arisa Asamiya Jinatsu
Director: Prince Ham
Series: Foot fetish is barre at work and ejaculate many times as a female subordinate's leg guy ●
Maker: Aroma Planning
Label: AROMA
Genre: Slut Pantyhose Tights Leg Fetish FootJob M Man Sample Video Blu-ray (Blu-ray) Disc On Demand Early 2020s (DOD)
Reference: aarm047sobod
Average rating: Average rating:
Censored
Chinese Subtitles
It is a product of the product released on January 4, 2022
Unlike Mako and, it is legal to expose the legs because Dare I say, the legs are genitals. There is no sin for women exposing their legs in the city. A man who gets excited without permission is bad ... The man who appears in the work now seems to have chosen the life which keeps being made acme by the leg of the subordinate voluntarily because it remembers the excitement in the leg of the female subordinate while having the position in the office. Yes, they have become a female subordinate leg guy ... The third series! ! ※ This is a software exclusively for Blu-ray Disc. Please note that playback is not possible except for compatible players.