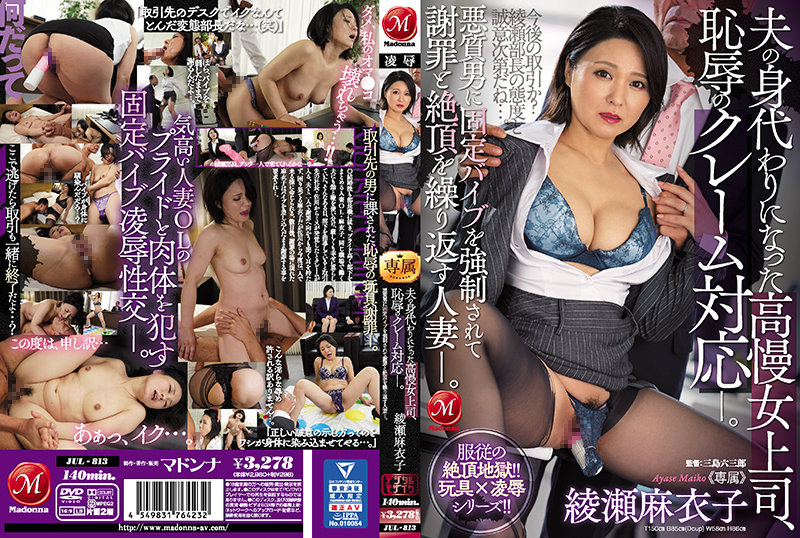 Information
[JUL-813] The proud woman boss who became the scapegoate of the husband, the complaint correspondence of shame -. A married woman who is forced to a fixed vibe by a vicious man and repeats an apology and climax. Maiko Ayase
Release date: 2021/12/28
Length: 140 mins
Cast: Ayase Maiko (Mari Sawaguchi)
Director: Mishima Rokusaburo
Series: Arrogant boss who became her husband's scapegoated, responding to complaints of shame.
Maker: Madonna
Label: Madonna
Genre: Shame Beautiful Breasts Mature Woman Married Woman Affair Affair Single Work Digimo Sample Video
Reference: jul813
Average rating: Average rating:
Censored
Chinese Subtitles
Maiko, a married woman who takes a manager's job even after marriage and brings her subordinates together with high pride. The candy and the whip were used properly for the husband who worked in the same office, and it lived severely but happily. One day, when coaching subordinates, the president of the business partner, Sagawa, claims that a mistake was discovered. Although her husband and I go to apologize, I have no ears to listen, and maiko is troubled, but I am ordered to come alone from Sagawa this time. A few days later, Maiko who appeared at the place of apology was required to apologize while inserting the vibe .