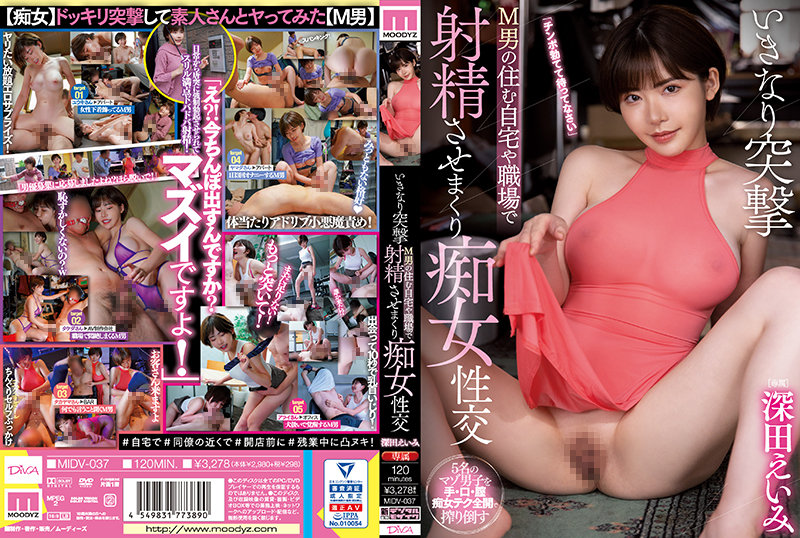 Information
[MIDV-037] Suddenly Assault M Ejaculates At Home or Work Where A Man Lives Female Coping Emi Fukada (Blu-ray Disc) (BOD)
Release date: 2022/01/18
Length: 120 mins
Cast: Fukada Emi
Director: Dragon Nishikawa
Series: ----
Studio: Moody's
Label: MOODYZ DIVA
Genre: Slut Single Work Cowgirl Cum Cum HandJob M Man Digimo Sample Video Blu-ray (Blu-ray) Disc On Demand Early 2020s (DOD)
Reference: midv037bod
Average rating: Average rating:
Censored
Chinese Subtitles
Products released on January 18, 2022
Eiki Fukada's MOODYZ exclusive third bullet is an ad lib full document that assaults amateur boys! No convex to amateurs who have applied for the manufacturer's actor recruitment! At home! In the shop! To the company! Everyday life turns into an erotic space in an instant! I met and messed down my nipples in 10 seconds and immediately handjobbed! A man tide humiliated by a chiguru! Your favorite piling piston! Emi-chan who turns an amateur into an M man speaks and laughs and bullies a woman crossing on parade! ※ This is a software exclusively for Blu-ray Disc. Please note that playback is not possible except for compatible players.