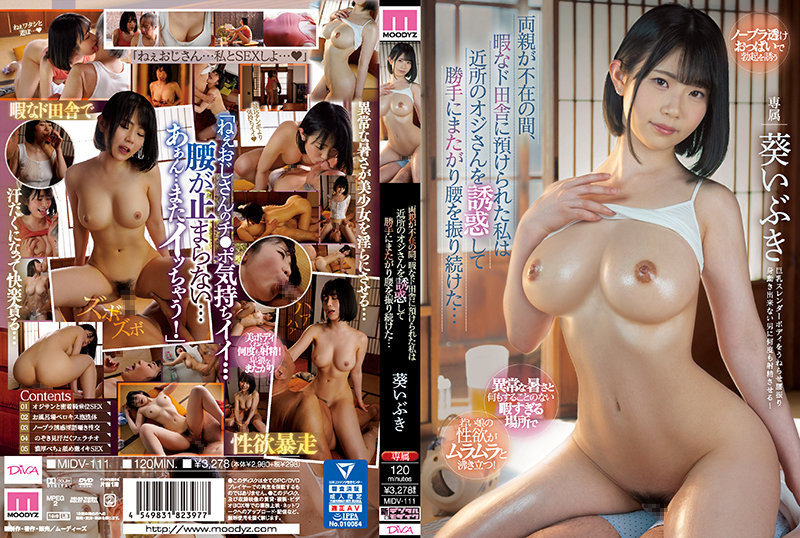 Information
Full HD [MIDV-111] In the absence of my parents, I was left in the leisure countryside, seducing my neighbor Oji and straddling him and swaying my hips... Aoi Ibuki
Released date: 17 May 2022
Length: 120 minutes
Performer: Aoi Ibuki
Director: Kitorune Kawaguchi
Series: I was left in the countryside in the middle of a leisurely daze while my parents were away.
Manufacturer: Moody's
Label: MOODYZ DIVA
Genre: Big Breasts Single Work Lewdness/Hard Kissing Equestrian Position Sweaty Digimo Sample Video Takasho Thank You Campaign
Ident Number: MID111
Average Rating: Average Rating:
【Sweaty and lewd】 In the hot countryside where there is nothing to do, the libido boils up, and the beautiful girl is quietly and densely. Ibuki was left with her grandmother in the absence of her parents. However, it was a place that was too boring and different from the city, and the busty breasts and plump nipples that could be seen through in the hot weather. Temptation to whisper tightly to the neighbor Oji who has trouble keeping his eyes ... Straddling her own and rocking her busty breasts and squeezing herself over and over again... Ejaculate and suck again and repeat sweaty intercourse... Ibuki was going to kill time...