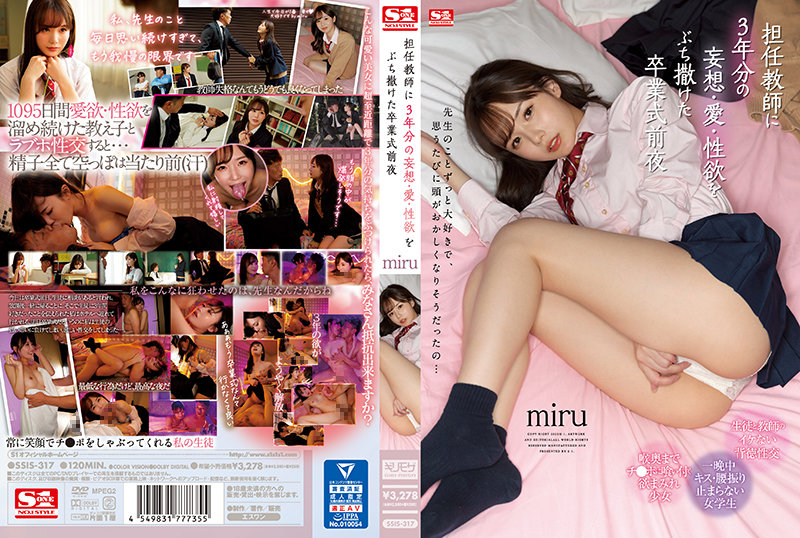 Information
[SSIS-317] On the eve of the graduation ceremony where I vented three years' worth of delusions, love, and sexual desire on my homeroom teacher miru
Released date: 08 Feb 2022
Length: 120 minutes
Performer: miru
Director: Ina Bar
Series: ----
Manufacturer: S1 Number One Style
Label: S1 NO.1 STYLE
Genre: Uniform Schoolgirl Standalone Work Sleepover, Bedridden, NTR Gillimosa Sample Video GW Great Thanksgiving Day 2022
Ident No.: ssis317
Average Rating: Average Rating:
Censored
Chinese Subtitles
I'm at the limit of my patience... For three years, I didn't make a boyfriend or masturbate, and I had always thought of the teacher I had liked since I entered the school, but on the day before the graduation ceremony, I bumped into my thoughts and took him straight to Labuho. [Space between two people, close range, Ikenai relationship] Everything made me lust, and 1095 days of greed exploded. A kiss that I couldn't stop after a few minutes, a large amount of that blew up so quickly that it felt so good the moment I inserted it, the best sexual intercourse that made my hips swing faster the more I shook it. I love you, sir.