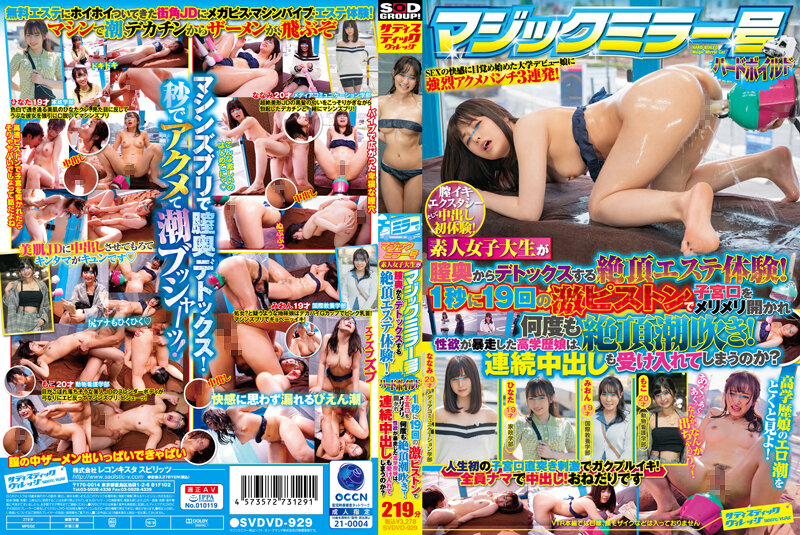 Information
Full HD [SVDVD-929] Magic Mirror Hardboiled Amateur College Girl Detox from the Vagina Deep Awesome Beauty Experience! With 19 fierce pistons per second, the uterine mouth is opened and climaxes squirt again and again! Will a highly educated girl with a runaway libido accept consecutive churns?
Released date: 23 Jun 2022
Length: 219 minutes
Performers: ----
Director: Newkaji Kazama
Series: Magic Mirror
Manufacturer: Sadistic Village
Label: Magic Mirror (Sadistic Village)
Genre: Nampa Amateur Esthetic Vibe Squirting Sample Video
Ident Number: 1SVDV929
Average Rating: Average Rating:
Related Tags: View Reviews
This time, we will give [free esthetic experience ticket] to a female university student with a high sense of beauty and invite her to the Magic Mirror! We will have them suffer from menstrual irregularities to receive a monitoring experience of detoxifying from the back of the vagina that activates hormones. After being made to feel good with oil and electroma, the uterine mouth was widened by the machine vibes that piston 19 times a second, and the highly educated girl with a runaway libido climaxed again and again! Even though it is an esthetic, yoga is a hormone activation tide! The finish is raw with therapist Atsuatsuchi-po! Will the four JDs who have risen to the occasion accept consecutive chuu-outs?