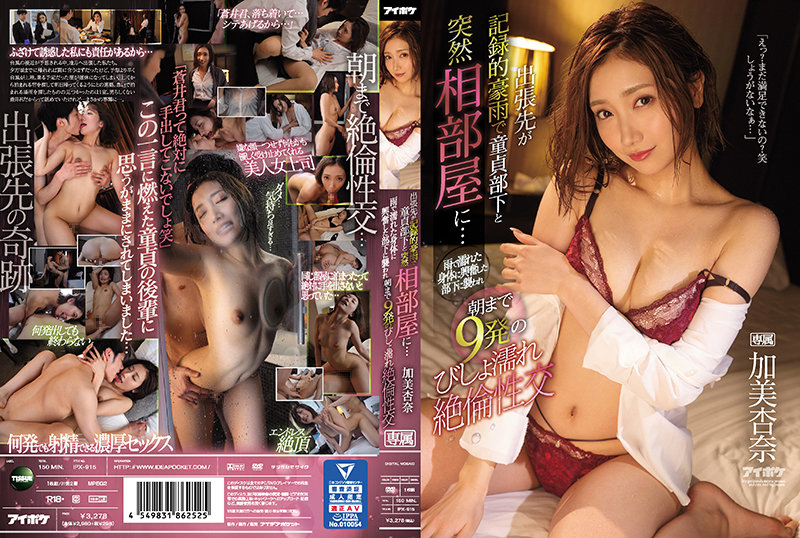 Information
Full HD [IPX-915] The business trip destination suddenly shared a room with a subordinate in a record heavy rain ... Attacked by a subordinate who was excited by the body wet by the rain, 9 shots of drenched sexual intercourse until the morning Kami Anna
Released date: 8/9/2022
Length: 150 minutes
Cast: Anna Kami
Director: Uyoshi
Series: A business trip is in record heavy rain and suddenly shares a room with a subordinate of Dojo...
Manufacturer: Idea Pocket
Label: Tish
Genre: Solo Work Kiss / Kiss Sleeping / Sleeping / NTR Sweaty Digimo Sample Video Female Boss Otona's Summer Campaign
Ident Number: ipx915
Average Rating: Average Rating:
A female boss and a chaste subordinate are forced to stay overnight after experiencing record-breaking downpours on a business trip. However, there was only one room that was vacant. The boss Kami thinks that there is no problem because his subordinate Aoi is not masculine and not used to women, so he stays in a shared room, but when he teases Aoi playfully, he suddenly attacks ... Looks and erotic are too erotic for the sweaty sex of the best beautiful female boss and the non-stop erection of the subordinates to the pleasantness of the sex ... I want to be pampered by a boss who is too kind to accept anything!