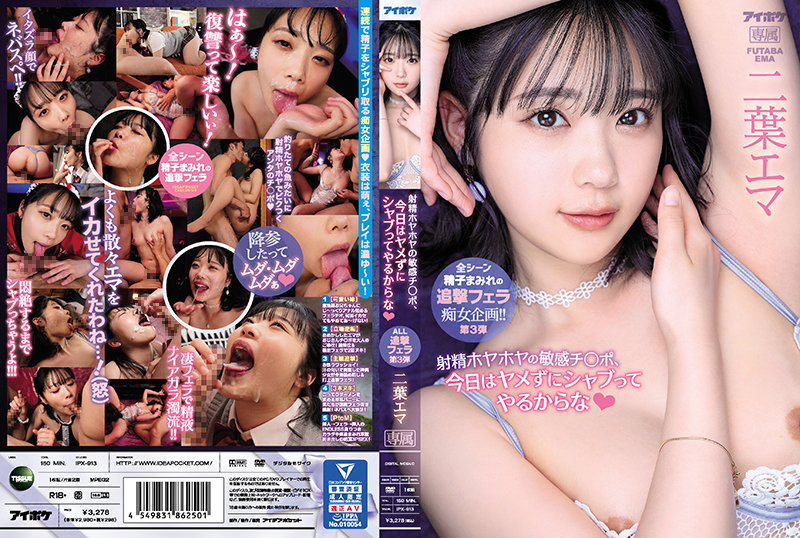 Information
Full HD [IPX-913] Ejaculate Hoya Hoya Sensitive Chi-Po, I'm going to shabu you today without a squirt Futaba Emma
Released date: 8/9/2022
Length: 150 minutes
Cast: Emma Futaba
Director: Minami Tomo Masaki
Series: Ejaculate Hoya Hoya Sensitive Chi-Po, I'm going to Shabu without a squirrel today
Manufacturer: Idea Pocket
Label: Tish
Genre: Bishōjo Standalone Work Cosplay Blowjob Face Shot Digimo Sample Video Otona's Summer Campaign
Ident Number: ipx913
Average Rating: Average Rating:
The third installment of the I-Poké series that rolls up the squid with a chase! The best sister "Futaba Emma" is getting revenge as an adult today! Shabu your sensitive chi-po with hell! I'm going to get plenty of revenge for being until now! licking chase to your brother, Uncle to Riding position & runaway twice in Nuki! Sweat licking ju suck! The bunny mesmerized by three consecutive ejaculated Nevaspe! Body fluid-soaked PtoM instinctive devouring SEX! Too much fellatio is a must-see!