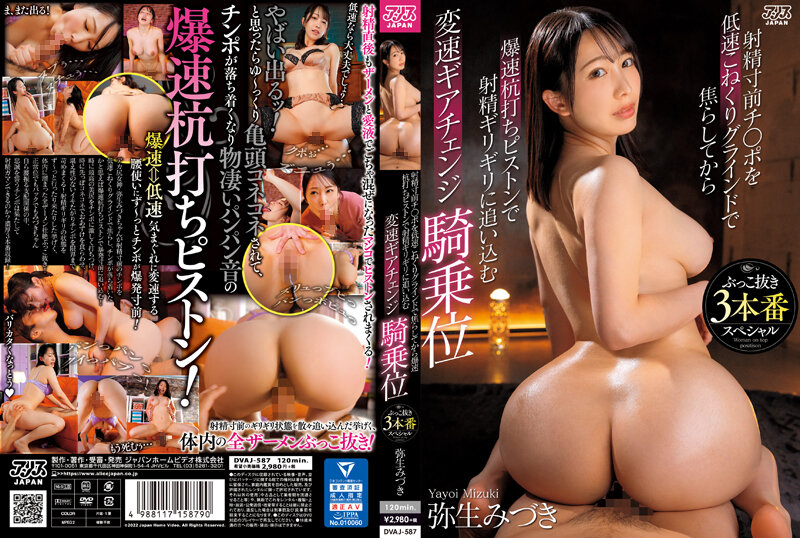 Information
Full HD [DVAJ-587] 【FANZA Exclusive】 Shift gear change riding position that scorches the ejaculation verge chi-po with a low-speed kneading grind and then drives it to the brink of ejaculation with a blast speed stakeout piston Bukko 3 production special Yayoi Mizuki Panties and raw photo set
Released date: 10 Aug 2022
Length: 120 minutes
Cast: Mizuki Yayoi
Director: Comet Akai
Series: Gear-changing mounted position
Manufacturer: Alice JAPAN
Label: Alice Japan
Genre: Slut Big Ass Single Work Equestrian Position Nakade Sample Video With Bonus / Set Product
Product Code: TKDVAJ587
Average Rating: Average Rating:
Izuki Yayoi, the goddess of the buttocks, scorches the ejaculating with a slow knead grind, and when the seems to have calmed down, it pushes it to the brink of explosion with an explosive stakeout piston! Sometimes he slams his best ass hard against his, sometimes he eats his with his and torments his unbearable to the limit! After going back and forth in a state of near the last minute of ejaculation, all the semen accumulated in the body was exhausted! In a dominating relationship in which Mizuki-chan swings her hips in both the normal position and the back, can the loyal really ejaculate? Dense 3 live recording!