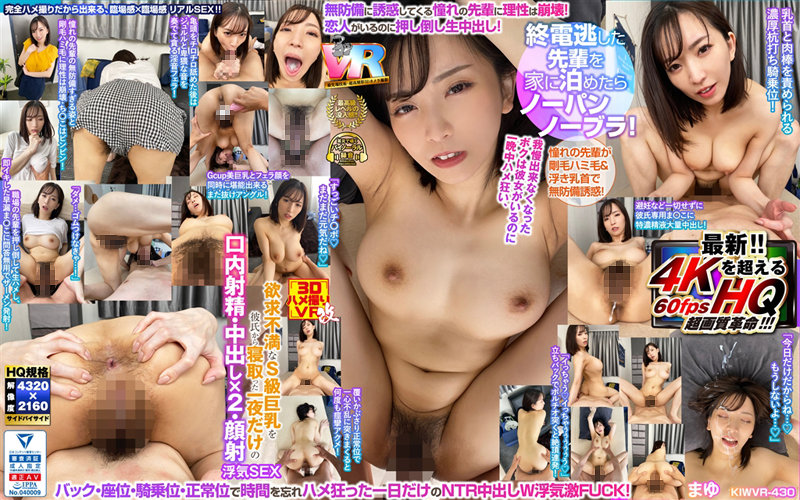 Information
[KIWVR-430] 【VR】 [If you stay at home with a senior who missed the last train, no panties and no bra! ] ] Longing seniors are defenseless seduced with bristle hammy hair and floating nipples! I couldn't stand it anymore, so I went crazy all night even though I had a girlfriend, and I cuckolded my frustrated S-class big breasts from my boyfriend only for one night [mouth ejaculation, 2 vaginal shots, facial] cheating SEX!
Released date: 2022/11/21
Product release date: 2022/11/21
Length: 68min
Performer:----
Director: Quackee
Series: 3D Gonzo VR Kai [SEX with ○○ who missed the last train]
Studio / Producer: Koara VR
Label: Koara VR Pole
Content type: 3D
Genre: High Quality VR VR Exclusive Distribution POV Facial Creampie OL Cuckold / Cuckold / NTR Big Tits
ID: kiwvr00430
Average rating: See review
[HQ / 60fps over 4K] "Kai" is a 3D gonzo VR with no male voice at all! !! On the way back from the trip, I was alone with my beloved girlfriend with fleshy beauty huge breasts ... Sweaty and scorching sex that excites her to make memories and passionately seeks each other in the parking lot! Carnivorous girlfriend's fierce,, and furious and crazy! 3 consecutive vaginal shots in a shot with the powerful BOIN of Kcup! Finally, even facials...! Dense car sex that forgot the human eye and sought each other fiercely in a narrow car * Camera angle that could not be shot in previous VR works! A camera is attached in front of the man's face to increase the sense of realism, and some people may get VR sickness. * 60fps videos are composed of twice as many still images per second as usual, so they look smoother than normal videos. * HQ is delivered at a resolution of 4320×2160 (side-by-side), which is even more precise than 4K.