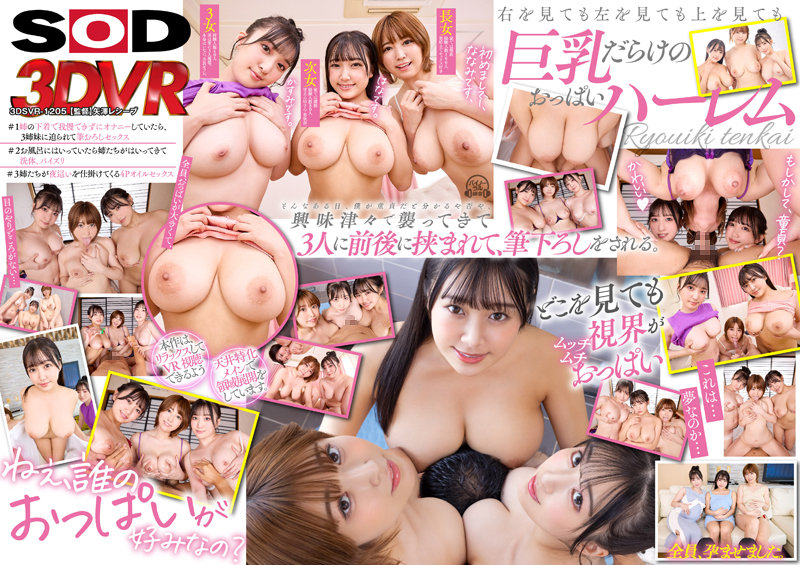 Information
Full HD [DSVR-1205] 【VR】< area expansion> Ultimate 4P Close-fitting sandwich sex. The three older sisters of my father's remarriage partner have super huge breasts! ?? All of them were, and they were triple surrounded by their, front and back, left and right, and they were made to ejaculate into the vagina many times until they conceived all three ...
Release date: 2023/01/16
Product release date: 2023/01/16
Length: 148min
Cast: Kasumi Tsukino Hana Himesaki Nanami Matsumoto
Director: Yazawa Receive
Series: 《Area Expansion/Ground Specialization× Ceiling Specialization》Sandwich VR
Studio / Producer: SOD Create
Label: SODVR
Content type: 3D
Genre: Creampie Big Tits Cowgirl Harem Kiss / Kiss VR Only High Quality VR
ID: 13dsvr01205
Average rating: See review
Excuse me
All of them were impregnated.
An older sister who was suddenly born due to her parents' remarriage.
All of them have big and are elusive、、、
One day, as soon as she found out that I was a virgin, she attacked me with great interest.
Sandwiched between the three of them, they put down their brushes.
Looking to the right, to the left, or up is a harem full of big breasts
Hey, whose do you like?
Everywhere you look, the view is plump
Simple construction
#1姉の下着で我慢できずにオナニーしていたら, 3 sisters pressed me to have sex
#2お風呂にはいっていたら姉たちがはいってきて洗体,
4P oil sex that sets up #3姉たちが夜 ● ugly
(Character)
Matsumoto... Eldest daughter Naked at home 100 experienced people I like men and I like sex
Himesaki ... Second daughter Naked at home 80 experienced people Spoiled Male dependence.
Tsukino... 3 women, 40 experienced men, always 3 mobile. There is no favourite. All of them are saffle.