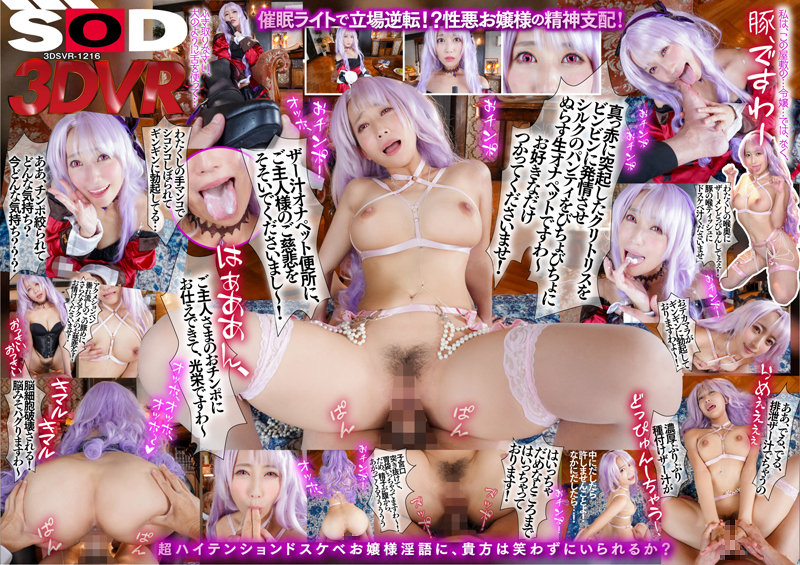 Information
Full HD [DSVR-1216] [VR] Held a villain daughter in a vertical roll who looks down on me as a butler ● Complete surrender with light! Oho voice & polite dirty talk barrage!
Delivery start date: 2023/01/23
Product release date: 2023/01/23
Length: 78min
Performer:----
Supervision:----
Series:----
Studio / Producer: SOD Create
Label: SODVR
Content type: 3D
Genre: High Quality VR VR Only Lookalike Dirty Talk Humiliation Lady / Daughter
ID: 13dsvr01216
Average rating: See review
A villain daughter who oppresses the butler's servant, using ● Light to alter his mind! "I'm the lady of this mansion... Not... It's a pig~!!!!" Position reversal!? Let me do what I want, SEX! SEX! SEX! "It's a raw masturbation pet that makes the bright red protruding clitoris estrus and wets the silk panties ~! Please use it as much as you like! Please use the mercy of your husband in the saar juice masturbator toilet ~! More acme mercy to this pig with acme ben dripping! Thank you for your kindness! Semen in the back of my throat! Please give me lewd juice on the pork's throat tissue!" Polite dirty talk, licking, deep throat deep throat, oho voice, raw 〇 ...... Please enjoy SEX with a lewd young lady that unfolds with super high tension like an erotic manga!