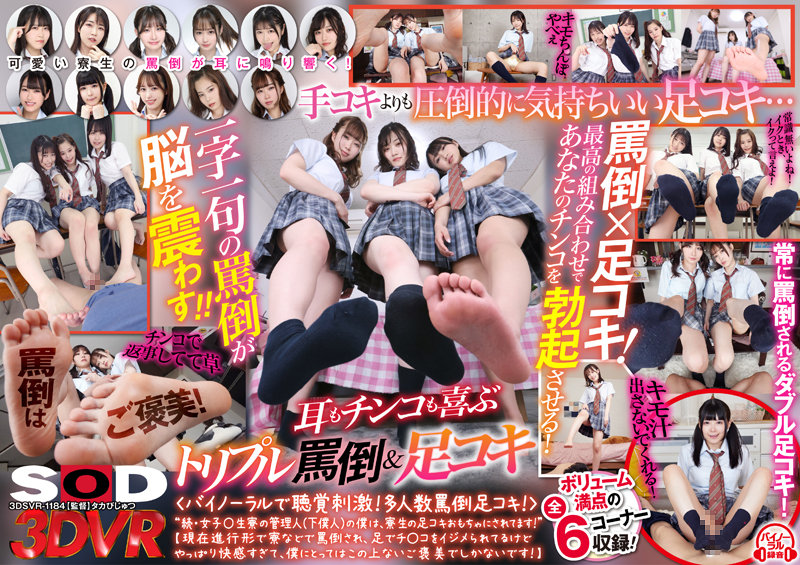 Information
Full HD [DSVR-1184] 【VR】〈Binaural and auditory stimulation! Multiplayer swearing footjob! 〉' I, the caretaker (servant) of the girls' dormitory, am being used as a footjob toy for the dormitory students! '[I'm currently being taunted in the dormitory and bullied with my feet, but it's still too pleasurable, and it's just the best reward for me ...
Delivery start date: 2023/03/06
Product release date: 2023/03/06
Length: 127min
Cast: Natural Mizuki (Natural Kanon) Meru Ito Yui Tenma Hikaru Minazuki Nanami Yokomiya Konatsu Kashiwagi Rino Yuki Mio Nozaki Ena Koume Yorio Hayami ▼Show All
Director: Takabijutsu
Series: Footjob Swearing VR
Studio / Producer: SOD Create
Label: SODVR
Content type: 3D
Genre: High Quality VR Uniform Swearing Footjob VR Only
ID: 13dsvr01184
Average rating: See review
The long-awaited sequel to footjob swearing fans! !!
Gorgeous 11 people! 125 minutes! All 6 corners are recorded!
I like all footjobs! The best work to give to swearing lovers!!
That perverted janitor is back!!
I'm the caretaker of a girls' school dormitory... Even today, he is covered in self-interest and conducts daily work so that the dormitory students can spend their time comfortably.
But... I am treated like a toy by such dormitory students every day... And sexual... (Seriously awesome!) )
A storm of taunts when you meet face to face... My was treated like a toy, stepped on with my foot, squeezed... But it's a huge reward for me!!
Being treated like a toy every day by overly cute dormitory students and even receiving words of reward (swearing) is truly a calling! It's the best job (play)!!
Dear perverted administrators (users), please enjoy the footjobs and swearing of the dormitory students, which are even more powerful than the previous work that we <(_ _)> have been waiting for!