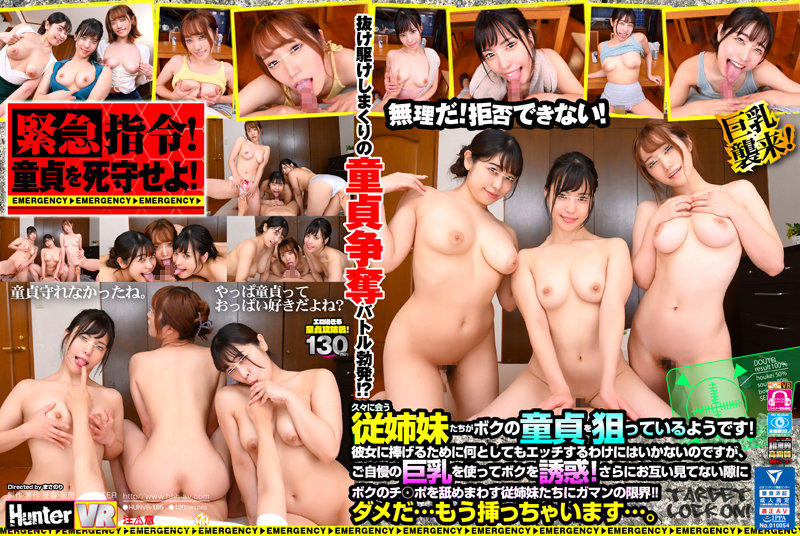 Information
Full HD [HUNVR-185] 【VR】Emergency Command! Protect your virginity! It seems that the cousins I haven't seen in a long time are aiming for my virginity! I can't have sex with her at all costs to give it to her, but she uses her big to seduce me! Furthermore, the cousins who lick my Ji ○ Port while not looking at each other ...
Delivery start date: 2023/03/09
Product release date: 2023/03/09
Length: 129min
Performer:----
Director: Masanori
Series:----
Studio / Producer: Hunter
Label: HHH-VR (HHH Group)
Content type: 3D
Genre: High Quality VR Big Tits 3P / 4P Creampie Virgin Nasty / Hard Tit Wank Blowjob VR Only Exclusive Delivery
ID: hunvr00185
Average rating: See review
Emergency Directive! Protect the virgins targeted by the busty cousins! !! Parents are away on a trip. Finally a chance to have a long phone call with her! I guess I'll call you home! It may be a chance to experience it for the first time! !! When I was excited, I heard a familiar and lively voice ... "It's been a long time~! "Didn't you hear from your aunt?" "I was supposed to stay today," and the three sisters of the cousin with luggage appeared! All three of them are insanely beautiful, but they have always treated them as children and are not good at them ... Sure enough, she teased me, "You don't have a girlfriend anyway, do you?" Cute girlfriend! "Hmm, have you had sex yet?" Well..."Wait! Maybe you're a virgin!?" I'm going to be teased all night, please don't do anything about it. In fact, the cousins who liked virgins took turns and saw the gap, "I like virginity kun a lot (shikoshiko", "Can you give me a virgin? (Licking)", "I want this virgin Ji ○ Po ~ (Goshigoshi)" and lock on to my! In the end, all three of us will make full use of our proud big breasts and compete for my virginity! I'm sorry my dear girlfriend, I'm at my limit! Excuse me for your first experience! !!