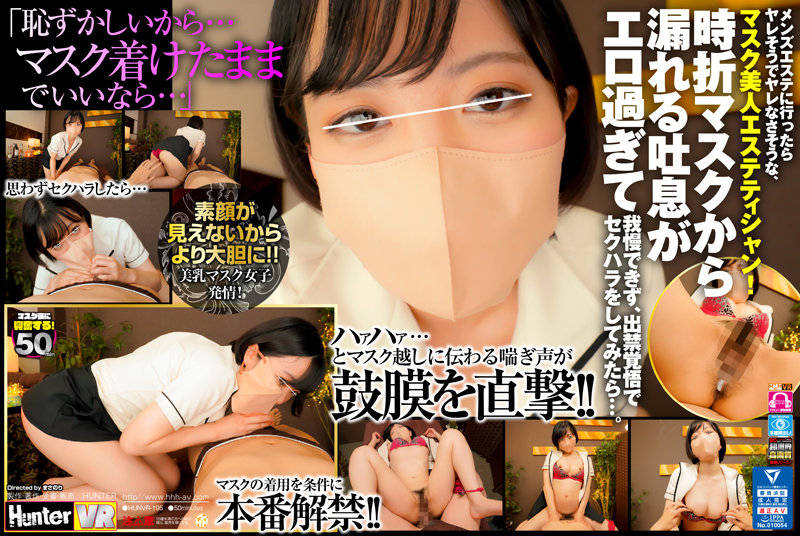 Information
Full HD [HUNVR-195] [VR] "Because I'm embarrassed ... If you don't mind keeping your mask on ..."If you go to a men's esthetician, you will be and you will not be, a mask beauty esthetician! Sometimes the sigh that leaks from the mask is too erotic and I can't stand it, so I tried sexual harassment with the intention of going out ...
Delivery start date: 2023/03/14
Product release date: 2023/03/14
Length: 50min
Performer:----
Director: Masanori
Series:----
Studio / Producer: Hunter
Label: HHH-VR (HHH Group)
Content type: 3D
Genre: High Quality VR VR Only Cowgirl Blow Nasty / Hard Uniform Creampie Esthetic Exclusive Delivery
ID: hunvr00195
Average rating: See review
It was a super nasty who was hiding under a mask that pretended to be naïve! ?? A beautiful mask woman I met at a men's beauty salon. I couldn't stand the gap-filled body, and my hand stopped as soon as I touched it. I didn't refuse it, I didn't OK it ... Are you going to get? Won't you get? Contrary to hesitation, my Ji ○ port that does not stop getting an erection ... The esthetician who noticed it also suppressed his crotch and mojimoji ... When I finally couldn't stand the naïve reaction and forcibly gripped Ji Po ..."If you can keep the mask on ...", a rich while hiding it with a mask! "Please don't take off your mask because it's embarrassing ...", and never shows your true face, but a sigh that leaks boldly! Blame the sensitive body and mess up! And it's good that the face is hidden, and finally I straddle the raw Ji ○ Port myself and roll up with my selfish grind! To the beautiful breast mask esthetician who is boldly disturbed because it is good that you can't see your true face, at the end is a large vaginal shot prepared for banning! !!