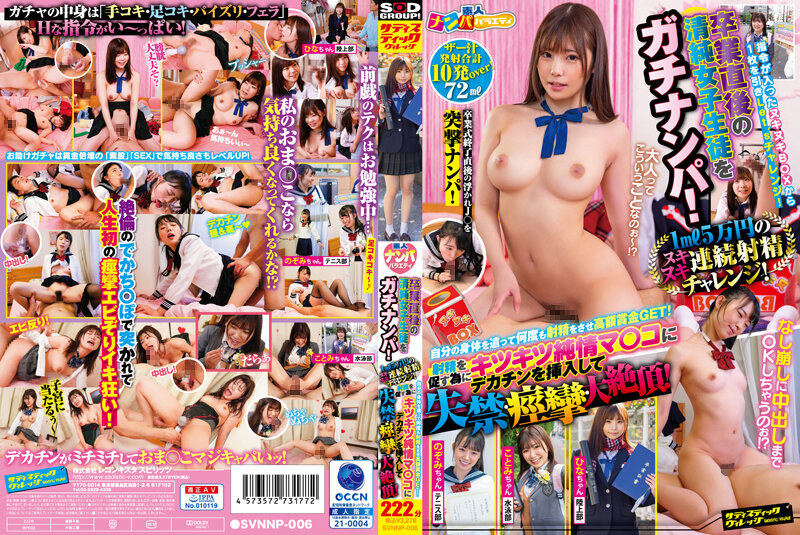 Information
Full HD [SVNNP-006] Amateur Nampa Variety Picking up innocent female students right after graduation! Nukinuki continuous ejaculation challenge for 1ml 50,000 yen! Use your body to ejaculate many times and get a high prize! In order to encourage ejaculation, insert a big into the tight pure passion mako and incontinence, convulsions, and large climax!
Delivery start date: 2023/03/17
Product release date: 2023/04/20
Length: 223min
Performer:----
Director: Kikufuku
Series: Assault! challenge
Studio / Producer: Sadistic Village
Label: Nampala
Genre: HDTV Footjob Handjob Schoolgirl Nampa
ID: 1svnnp00006
Average rating: See review
Immediately after the graduation ceremony, where the uniform is regrettable, I charged into the room of the pitch-skinned J ○ and challenged the 'sperm exploitation game of 50,000 yen per ml'! They are going to go on to higher education and get a job, and they are embarrassed by the command that says ",,, footjob", and they want pocket money! However, the number of small spots increased to two and Asea ... (/ω\) Therefore, the "bare thigh" and "SEX" cards that double the prize money are introduced, and the estrus J 〇 who is overjoyed by the erection in Gingin is panned with a throbbing and a big hustle! I can't refuse a vaginal shot!