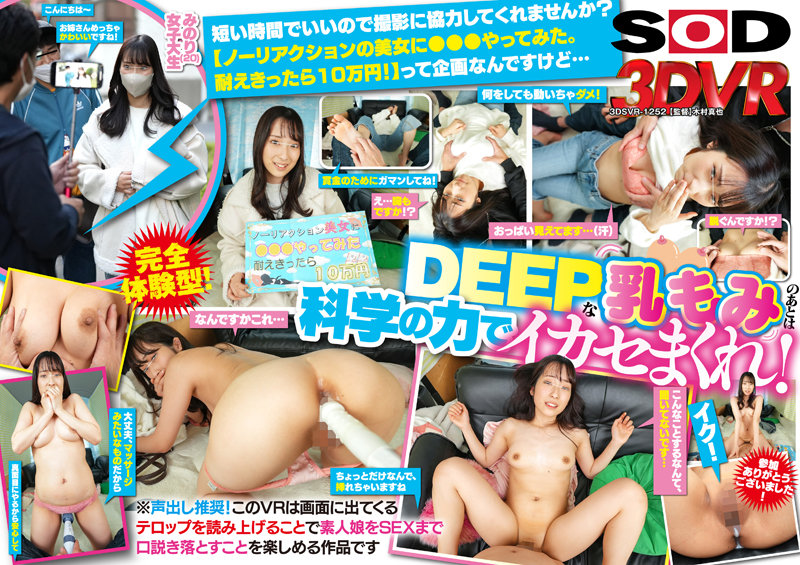 Information
Full HD [DSVR-1252] 【VR】Amateur Nampa AV Experience VR [Face Amateur Girl's Soft Raw DEEP (Deep) Breast Firs] Minori (20) Female College Student * Voices recommended! This VR is a work that you can enjoy persuading amateur girls to SEX by reading out the tickers that appear on the screen.
Delivery start date: 2023/03/30
Product release date: 2023/03/30
Length: 85min
Performer:----
Director: Shinya Kimura
Series: Amateur Nampa AV Experience VR
Studio / Producer: SOD Create
Label: SODVR
Content type: 3D
Genre: Toys Big Tits Amateur Nampa Creampie High Quality VR VR Only
ID: 13dsvr01252
Average rating: See review
You who are waiting in the car for the amateur college girl that AD picked up to have sex persuade you!
Yo ● ● A girl who got into the car thinking that it was a photo shoot of UBE Futu with that hand and played with breasts!
"This is really buzzing...!?"
Ignoring the girls who are scolding, the act escalates! I'll ask for more prizes! Let me insert it! Request!
* This VR is a work that allows you to enjoy the persuasion of amateur girls by reading the ticker that appears on the screen. Please note that a large amount of tickers will be displayed.