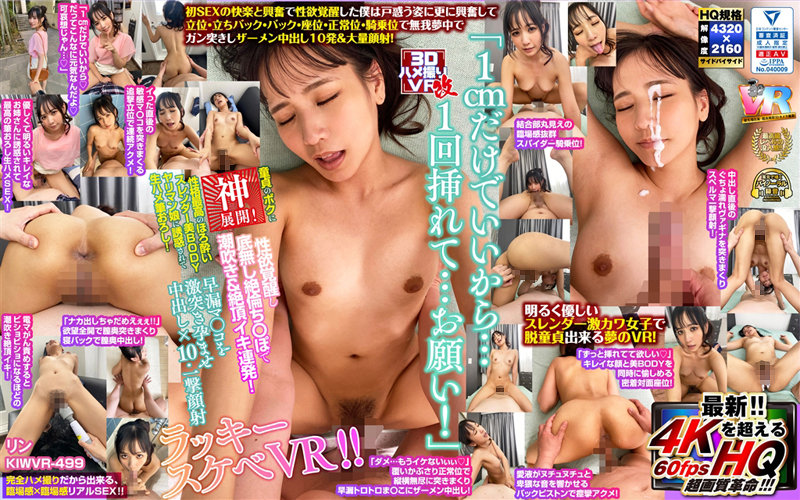 Information
[KIWVR-499] [VR] "Because only 1cm is enough... Insert it once... Please!" To me as a virgin [God unfolds! ] The best tipsy slender beauty BODY girl seduced by a raw saddle brush! Libido awakened bottomless unequaled Ji ○ Po [Squirting & climax orgasm repeatedly! ] Premature ejaculation Ma ○ ko is impregnated [× 10 ・ One blow facial] [Lucky ...
Delivery start date: 2023/05/01
Product release date: 2023/05/01
Length: 80min
Performer:----
Director: Quackee
Series: 3D Gonzo VR Kai [God Deployment! Virgin unequaled vaginal shot SEX]
Studio / Producer: Koara VR
Label: Koara VR Pole
Content type: 3D
Genre: High Quality VR VR Exclusive Distribution POV Facial Creampie Virgin Amateur Beautiful Girl
ID: kiwvr00499
Average rating: See review
[4K shooting HQ / 60fps] "Kai" is a 3D gonzo VR with no male voice at all! !! When I tried picking up girls on SNS, I came to a slender, beautiful leg, transcendently beautiful girl! ?? Moreover, when you tell them that you are a virgin and find out that it is true, the rich temptation that the other person asks you to insert because you only need 1 cm! I was at the limit of my patience with and caresses, but I couldn't refuse and wrote down SEX! Of course, although it exploded immediately, I became a sexual arousal and full erection monster with the pleasure of the first, so I caught a beautiful woman who was impatient with vaginal shot and shoved it and chased it! Offense and defense change / de-virginity fierce that made me crazy squid without worrying about pregnancy! * Camera angles that could not be shot in previous VR works! A camera is attached in front of the man's face to increase the sense of realism, and some people may get VR sickness. * This VR work is a precise ultra-high image quality specification shot and recorded in [4K] [60fps]. * 60fps videos are composed of twice as many still images per second as usual, so they look smoother than normal videos. * Please experience the realistic and immersive feeling unique to ultra-high quality VR. * This product is exclusively distributed by FANZA and can only be purchased here.