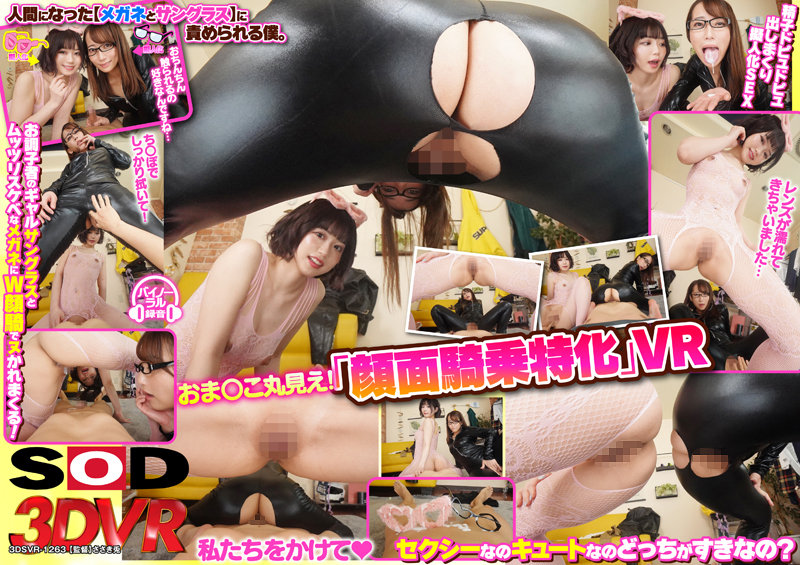 Information
[DSVR-1263] 【VR】Glasses and sunglasses personification When I was napping, my favorite black-rimmed glasses and playful sunglasses turned into a girl?! An anthropomorphic beauty who comes to face sitting with "Put us on ◆" blames your face and gets an erection inevitable! Which do you prefer, sexy or cute? Face blame specialized VR
Delivery start date: 2023/05/04
Product release date: 2023/05/04
Length: 60min
Cast: Mao Kurata.
Director: Usagi Sasaki
Series:----
Studio / Producer: SOD Create
Label: SODVR
Content type: 3D
Genre: High Quality VR VR Exclusive Glasses Pantyhose / Tights 3P / 4P
ID: 13dsvr01263
Average rating: See review
On this day, I was cleaning my room.
On this day, I threw away a certain thing.
These are the glasses I used to use and the sunglasses I bought playfully with my friends.
I threw it away without any thought...
I was taking a nap. When I woke up, I heard a girl's voice from behind me, and two mysterious girls in full-body tights appeared in front of me.
No~ I'm already surprised (laughs)! !! And it's cute.
"It's our abandoned glasses and sunglasses," "We've become human."
…?
"Will you call us?"
………????????
Without really understanding it, I decided to "wear" "glasses" and "sunglasses" that I became human.
But how...? Nothing to call now? It's human...
Just as I was thinking about that, a girl with glasses suddenly
It straddled my face, and this is... this is...
>>>>> Face Horse<<<<<<
This is what it means to "hang" them!!!
Chance! Heaven! Lucky face sitting! Ninpo Omako Glasses! !!
On this day, I was covered in glasses and sunglasses and ejaculated a lot.
Was that a dream? Or....