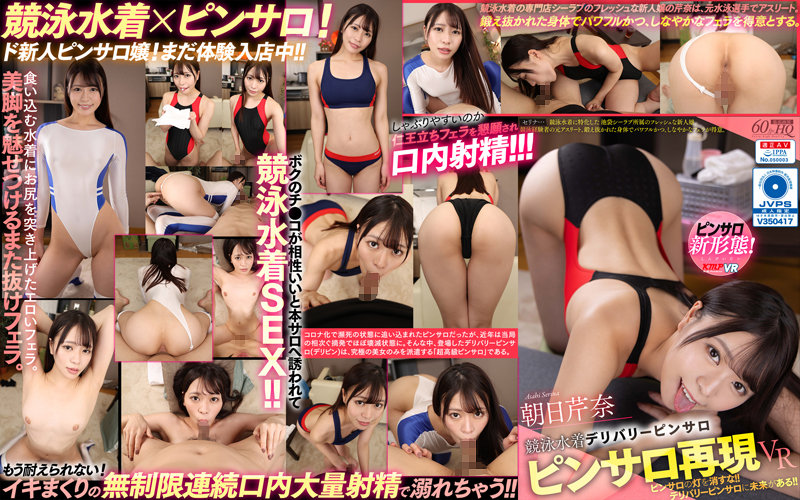 Information
[VRKM-926] 【VR】Pinsaro reproduction VR~ Competitive swimsuit delivery Pinsaro~ Asahi Serina
Delivery start date: 2023/05/03
Product release date: 2023/05/03
Length: 102min
Cast: Serina Asahi
Director: Mr. Suzutake who loves Pinsaro
Series: Pinsaro reproduction
Studio / Producer: K M Produce
Label: KMPVR
Content type: 3D
Genre: Solowork High Quality VR VR Exclusive Delivery Creampie Swimming / School Swimsuit Blow POV
ID: VRKM00926
Average rating: See review
Pinsaro New Form!
Don't turn off the lights of Pinsaro!! Delivery Pinsalo has a future!!
It was a store-type Pinsaro with the charm of the Three Cs, which was driven to a dying state due to the corona period, but in recent years it has been almost destroyed by a series of detections by the authorities.
Meanwhile, the delivery pinsaro (delipin) that appeared is a "super luxury pinsaro" that dispatches only the ultimate beauty.
The system is completely pinsalo, and you can enjoy a top-notch at home.
Serina, a fresh newcomer at Shi Love, a competitive swimsuit specialty store, is a former swimmer and athlete. He specializes in powerful and supple with a well-trained body.
An erotic with her ass stuck up in a biting swimsuit. Another that attracts beautiful legs.
Is it easy to suck or is begged for a and ejaculated in the mouth! !! When is compatible, I was invited to this salon and competitive swimsuit SEX! !!
I can't stand it anymore! I'll drown in the unlimited continuous continuous mass ejaculation in the mouth of Iki-rolling! !!
Selina ... A fresh new lady belonging to Ikebukuro Shi Love who specializes in competitive swimsuits.
A former athlete with swimming experience. He is good at powerful and supple with a well-trained body.