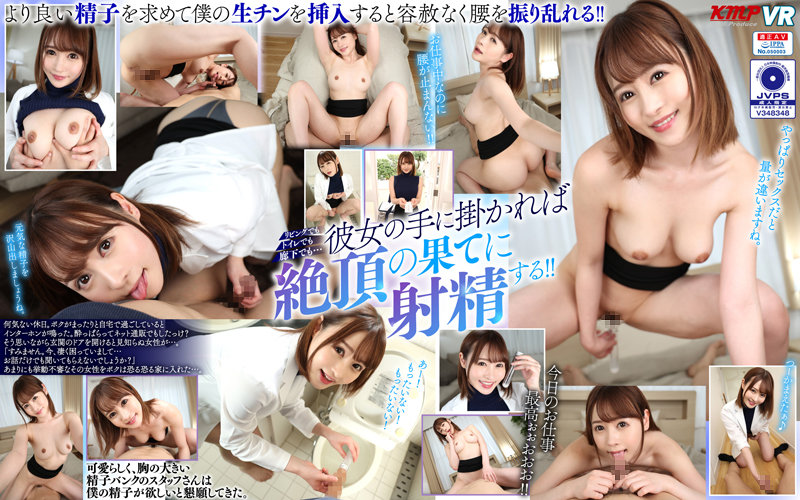 Information
[VRKM-984] 【VR】I can't go back to work without getting sperm! Chasing around the house and squirting my sperm cliff-edge sperm bank STAFF Esayaka
Delivery start date: 2023/05/07
Product release date: 2023/05/07
Length: 72min
Cast: Ayaka Esaki
Director: Kitchen Knife M
Series:----
Studio / Producer: K M Produce
Label: KMPVR
Content type: 3D
Genre: Solowork High Quality VR VR Exclusive Exclusive Distribution Cowgirl Pantyhose / Tights Beautiful breasts Hospital / Clinic Various occupations
ID: VRKM00984
Average rating: See review
Casual holiday. While I was relaxing at home, the intercom rang. Did you get drunk and do online shopping? With that in mind, when I opened the front door, a strange woman ... "I'm sorry, I'm in a lot of trouble right now... Would you mind listening to my story?" I fearfully let the woman who was so suspicious into the house ...
The staff at the cute, big-breasted sperm bank begged me for my sperm.
Is this a nightmare...!? Even if you run away or run away, they will chase you for sperm! !!
Whether it's in the living room, in the bathroom, in the hallway... If you hang it on her hand, you will ejaculate at the end of the climax! !!
When I insert my raw in search of better sperm, I shake my hips mercilessly! !!