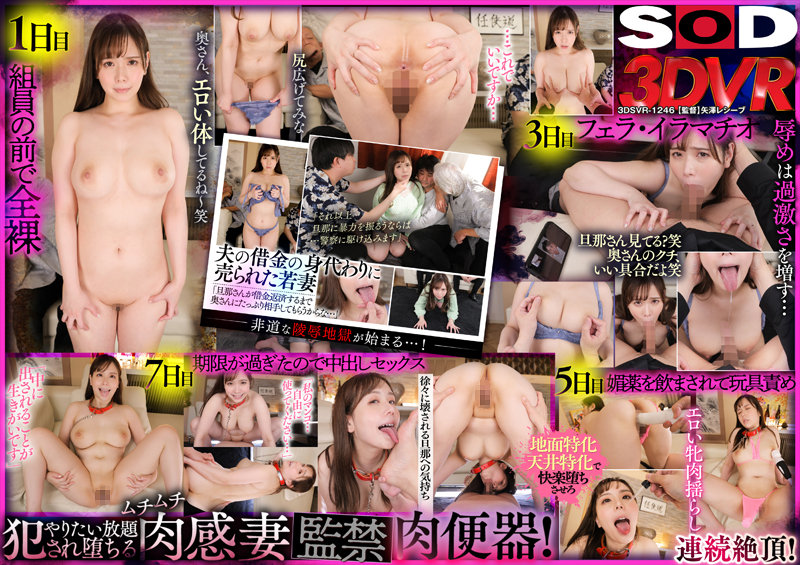 Information
[DSVR-1246] 【VR】A young wife who was sold as a substitute to pay off her husband's debt is confined for 7 days and when she wants to a meat urinal VR
Delivery start date: 2023/05/08
Product release date: 2023/05/08
Length: 82min
Performer:----
Director: Yazawa Receive
Series:----
Studio / Producer: SOD Create
Label: SODVR
Content type: 3D
Genre: High Quality VR VR Only Married Woman / Housewife Beautiful Tits Big Tits Cuckold / Cuckold / NTR Creampie
ID: 13dsvr01246
Average rating: See review
A young wife who is sold as a substitute for her husband's debt
(I), the master of the yakuza, forcibly took away the young wife with a repayment period of less than 7 days.
"I'll let your wife handle her sexual desires until you pay off your debt."
A young wife who is asked to process her sexual desire until she repays her husband's debt, and she does not like it.
Day 1 Naked in front of the group members
Day 3 Deep Throat
Day 5 Aphrodisiac and toy blame
sex because the deadline has passed on the 7th day
Feelings for her husband that are gradually broken
"If you commit violence against your husband any more, I will run to the police."
At first, she was a dignified young wife who desperately supported her husband.