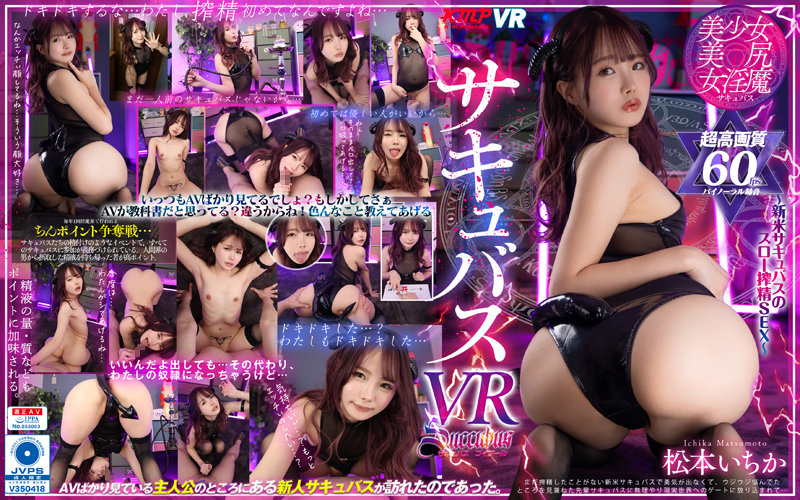 Information
[VRKM-936] 【VR】Succubus VR ~New Succubus' Slow Squeeze SEX~ Ichika Matsumoto
Delivery start date: 2023/05/07
Product release date: 2023/05/07
Length: 93min
Cast: Ichika Matsumoto
Director: Member Miyasako
Series: Succubus VR (produced by K M)
Studio / Producer: K M Produce
Label: KMPVR
Content type: 3D
Genre: Solowork High Quality VR VR Exclusive Exclusive Delivery Creampie Small Tits / Small Tits Cowgirl POV
ID: VRKM00936
Average rating: See review
"Point Battle" held once a year in the nasty demon world
All succubi are required to participate in events such as the Succubus Rating.
The one who brought back the semen ingested from the man in the human world is the high point. The quantity and quality of semen are also added to the points.
This time, the protagonist, who is only watching AV, is visited by a rookie succubus (Ichika Matsumoto).
A novice succubus (Ichika Matsumoto) who has never been squeezed yet, and is forcibly thrown into the gate to the real world by a senior succubus who has not been able to get the courage and was worried about maggots.
Because the first time is a kind person ...
Don't be nervous... I'm new to squeezing...
I'm not a full-fledged succubus yet...
I think the most important thing about naughty things is feelings.
You're always watching AV, aren't you? Maybe you think AV is a textbook? Because it's different! I'll tell you a lot (heart symbol)
Look at me a lot... Look into my eyes... Look at my lips...
Shall we?... You really want to chew with me right now, don't you...? Chew...?
I was thrilled...? I was thrilled too...
How does it feel...? Want to have more sex ...?
You have a naughty face... I love that kind of face...
Shall we?... I'm putting it out as it is ... I'll suck you...
It's a pervert to kiss a succubus and get excited.
Do you want to touch my body...? I want to touch my body... I'll let you touch it...
If you do this, you'll get a ...
This time... I'll take care of you...
It's okay to put it out... Instead, it will be my guy ● ...