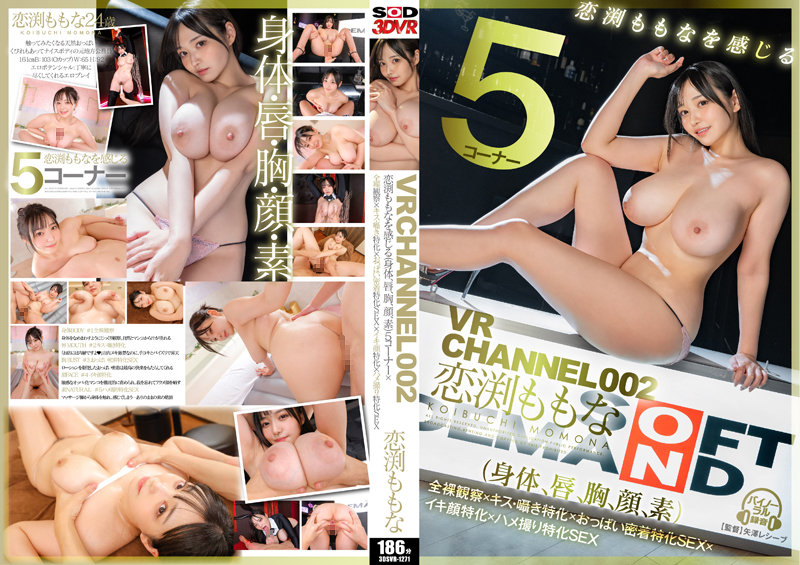 Information
Full HD [DSVR-1271] 【VR】 VR CHANNEL 002 Momona Koibuchi Feel Momona Koibuchi (body, lips, breast, face, bare body) 5 corners × naked observation × kiss / whisper specialization× close contact specialized SEX × orgasm face specialization× gonzo specialized SEX
Delivery start date: 2023/05/15
Product release date: 2023/05/15
Length: 185min
Cast: Momona Koibuchi
Director: Yazawa Receive
Series: VR CHANNEL
Studio / Producer: SOD Create
Label: SODVR
Content type: 3D
Genre: Solowork High Quality VR VR Only Super Tits Big Tits Kiss / Kiss Cowgirl Blow
ID: 13dsvr01271
Average rating: See review
[You can experience the miraculous O cup body in VR]
SODstar's Momona Koibuchi finally makes her first appearance in VR!
In this work, you can feel Koibuchi Momona-chan for nearly 3 hours.
It is a high-quality VR work with a lot of volume.
[Feel Koibuchi Momona with all five senses at super close range]
There are plenty of VR iron plate corners so that all users can enjoy it. 5 corners with the theme of (body / lips / chest / face / bare body)! !! #1 Naked observation #2 Specializing in kissing and whispering #3 Specialized in adhesion SEX #4 Specializing in Iki face #5 Gonzo specialized SEX
【Corner contents】
(Body #1 First Undressing and observing carefully as if licking the body.) Juice naturally drips from the)
(Lip #2 Whisper Specialization "It's a secret to the store" Even though it is strictly forbidden to nuki in the store, ascend with a and)
(Breast #3 Specialized SEX Lotion for brings the best pleasure)
(Face #4 Face Specialization Thoroughly toy blame sensitive and. Forget yourself and expose your acme face)
(Elementary # 5 High quality gonzo SEX Touch and feel your body from the masseuse ... Raw climax as it is)
There is no doubt that you will be impressed by the shock of seeing the O cup body up close!