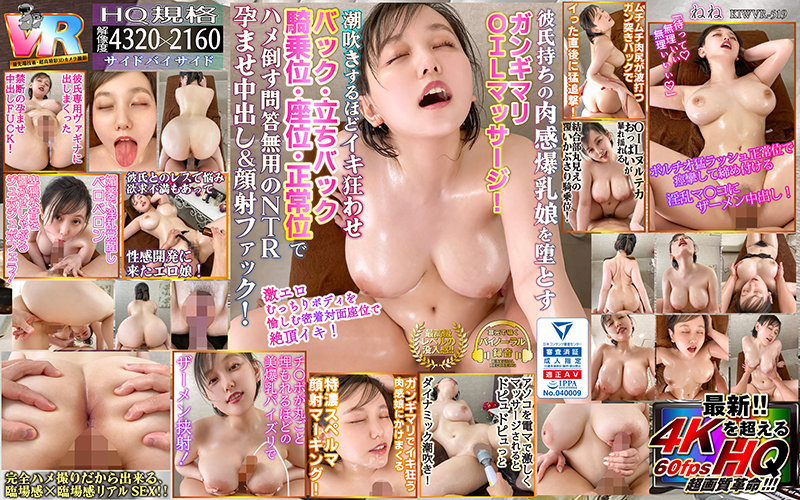 Information
Full HD [KIWVR-519] [VR] "Ji ○ Po Chodai Naka can't help it because it's aching" Sexual development oil massage Frustrated and flesh feeling full open [Divine milk Hcup] BOIN is estrus with an aphrodisiac and shakes beautiful huge breasts wildly and convulsive acme repeatedly! Ascension of Gangimari in the first climax loop in life [Squirting splash! 】...
Release date: 2023/05/19
Product release date: 2023/05/19
Length: 72min
Performer:----
Director: Quackee
Series: 3D Gonzo VR Kai [Aphrodisiac Gangimari Climax Salon]
Studio / Producer: Koara VR
Label: Koara VR Pole
Content type: 3D
Genre: High Quality VR VR Exclusive Distribution POV Facial Creampie Lotion / Oil Massage / Refre Big Tits
ID: kiwvr00519
Average rating: See review
[4K shooting HQ / 60fps] "Kai" is a 3D gonzo VR with no male voice at all! !! An H cup divine milk girl who came to develop sexual sensation for her boyfriend is nasty with aphrodisiac and erotic massage! Falling into the pleasure of life never experienced in Gangimali, I couldn't control my desire and convulsed climax with rich caresses! And forget about her boyfriend and vaginal shot meat stick treatment to Gangimari nasty girl who seeks pleasure! An unscrupulous NTR esthetic salon that has vaginal shot in the for the boyfriend of an erotic girl who is too frustrated and shakes her hips in search of a with all her heart! * Camera angles that could not be shot in previous VR works! A camera is attached in front of the man's face to increase the sense of realism, and some people may get VR sickness. * This VR work is a precise ultra-high image quality specification shot and recorded in [4K] [60fps]. * 60fps videos are composed of twice as many still images per second as usual, so they look smoother than normal videos. * Please experience the realistic and immersive feeling unique to ultra-high quality VR. * This product is exclusively distributed by FANZA and can only be purchased here.