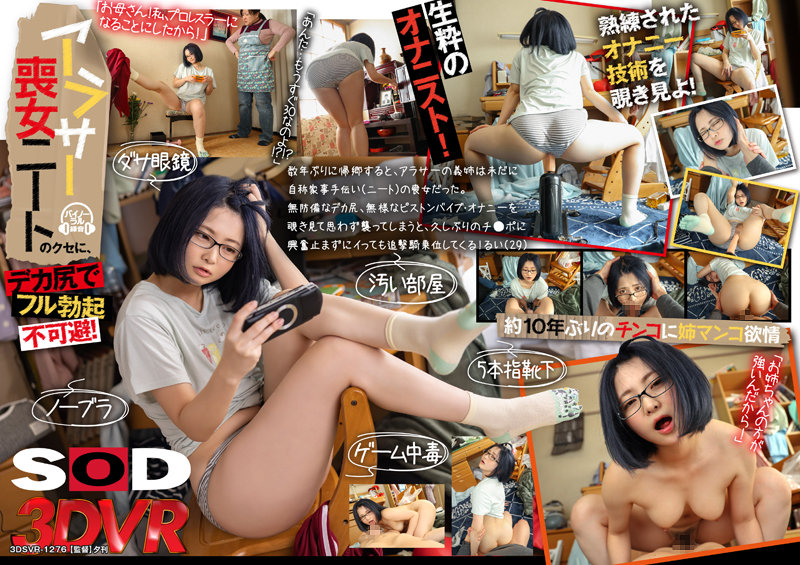 Information
Full HD [DSVR-1276] 【VR】When she returned home for the first time in several years, Alasa's sister-in-law was still a self-proclaimed domestic helper (NEET) mourner. If you peek at the defenseless ass, uneven piston vibrator masturbation and attack unintentionally, you will be chased cowgirl even if you without stopping being excited by Ji ● Port for the first time in a long time! Rui(29) Otokoto Rui
Delivery start date: 2023/05/22
Product release date: 2023/05/22
Length: 99min
Performer: Rui Otokoto
Director: Evening Edition
Series: Arasa Mourning Woman Neat
Studio / Producer: SOD Create
Label: SODVR
Content type: 3D
Genre: Solowork High Quality VR VR Only Sister / Sister Big Ass Deep Throating Masturbation Cowgirl
ID: 13dsvr01276
Average rating: See review
[Arasa mourning woman NEET's older sister]
Today is the anniversary of my father's death.
I returned home for the first time in years.
I was nervous at my parents' house after a long time,
I was relieved that my mother was fine.
By the way, my mother and I are not connected by blood.
I remarried my father when I was still a student.
And my mother had a daughter.
Because she was older, she became an older sister from that day on.
I used to play a lot.
Played the same game.
There were a lot of fights.
We were really close.
But since I was an adolescent, I stopped talking.
So I didn't know what kind of person my sister was.
What are you thinking?
What do you want to do in the future?
Are you happy?
I haven't talked to you in a long time today.
... And the sister tells.
"Because I decided to become a professional wrestler!"
My sister...
Rui sister...
Uu
... I felt sad.
... I wanted to cry.
In the past, my sister and I used to play professional wrestling games.
Eventually, I lost interest in it.
My sister hadn't changed since then.
still
I'm playing game boy adoption.
By the way, the software,
It's Phi Pro Ring A.
Nothing had changed for my sister.
My mother answered without seeing through.
"You... You're going to be 30 soon, aren't you?"
My mother's voice was trembling.
My hands were shaking.
Father...
Father...
How are you????
What are you thinking now...?
With this and that
I'm worried about my sister's life,
When I was sneaking a peek at my sister heading to my room...
My sister was masturbating in a strange way.
with a worn-out piston vibe,
In a thudding pose,
He was poking his genitals.
It was poking around.
It was poking around a lot.
It's just like a woodpecker.
Woodpecker Woodpecker Woodpecker
Be.
For several years,
You're not looking at.
He hasn't touched his.
I don't feel.
Therefore, my sister has no choice but to diverge on her own.
That's what I mean, or whatever...
... I wanted to cry.
I wanted to cry out loud.
I cried and wanted to sprint across the prairie.
After crying, I wanted to disappear as a thousand winds.
But
Honestly I had a full erection.
My sister had a full erection.
So, it attacked.
I blamed it with a vibe like a demon.
I deep throated like a demon.
Brother with a full erection,
I did it by ramming into the sister of the insertion standby OK.
"Sister, does your feel good for the first time in years?"
"Sister, is your warm for the first time in years?"
Again and again and again furious.
My sister was lustful and fiercely orgasming on her first in years.
And.
But my sister's sexual arousal doesn't stop.
"We're not connected by blood..."
To my sister, who became a sex beast as a result,
While being kneaded nipples with saliva,
I was forced to for the second time ...
My sister...
Rui sister...
Even if you have children, forgive me.
If a boy is born,
Let's name it [Kenji].
Because it's my father's name!!!!!!