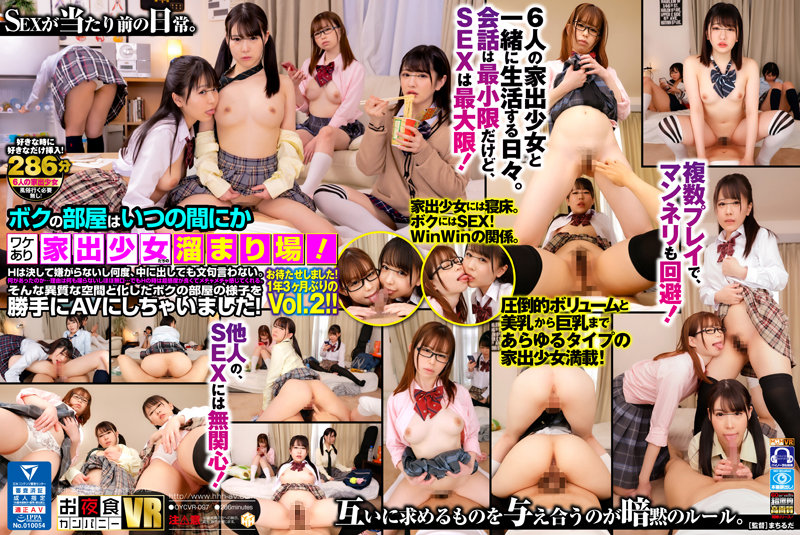 Information
Full HD [OYCVR-097] 【VR】My room is a hangout for runaway girls! H never hates it, and he doesn't complain no matter how many times he puts it inside. Thank you for waiting! Vol.2 for the first time in 1 year and 3 months!!
Delivery start date: 2023/05/23
Product release date: 2023/05/23
Length: 286min
Performer:----
Director: Machiruda
Series: Naturally, unauthorized AV conversion
Studio / Producer: Late Night Snack Company
Label: HHH-VR (HHH Group)
Content type: 3D
Genre: Over 4 Hours Schoolgirl Creampie 3P / 4P Panty Shot School Uniform Harem Cowgirl Blowjob VR Only High Quality VR Exclusive Delivery
ID: oycvr00097
Average rating: See review
The runaway girl series has been restarted with a spectacular volume after more than a year! This work also includes a naughty joint life with six cute runaway girls! They rarely talk, so communication is minimal, but they have sex every day, and the days with runaway girls who can have sex whenever and as much as they want are more fulfilling than you can imagine until you experience it. Runaway girls whose names I don't even know are always rumbling in the room! Wear your pants out as if you were relaxing at home! If I want to him even more, he comes with a single beckoning and opens my crotch. Even threesomes are OK with plenty of room! We don't have romantic feelings for each other, but they satisfy our sexual desires! What they want is a god (= me) who can stay without unnecessary prying! And what I want is a cute girl who can be a man immediately (= runaway girl). An ideal relationship in which mutual interests coincide.