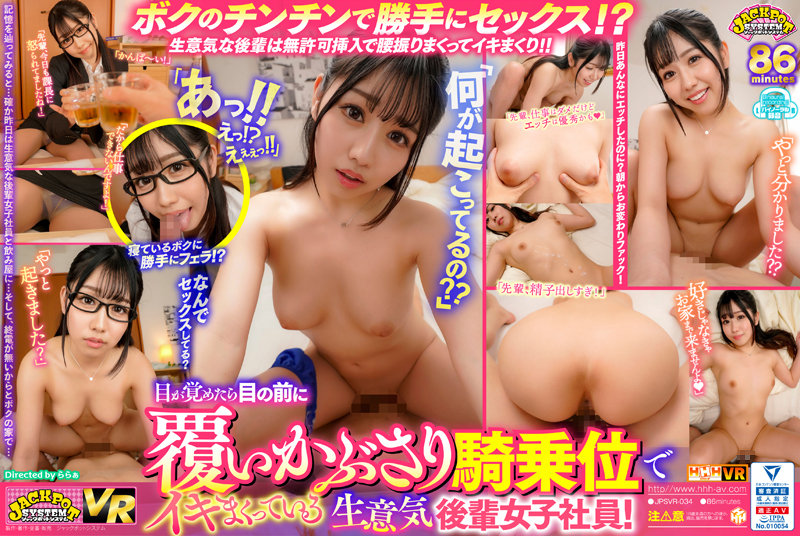 Information
[JPSVR-034] [VR] "Oh!! Aa "What's going on??" When I woke up, I woke up to a cheeky junior female employee who was covering herself in front of me and cumming in cowgirl position! If you go back to your memory... Sure, yesterday I went to a bar with a cheeky female employee ... And because there is no last train at my house ...
Delivery start date: 2023/06/06
Product release date: 2023/06/06
Length: 87min
Performer:----
Director: Lala
Series: Specialized VR
Studio / Producer: Jackpot System
Label: HHH-VR (HHH Group)
Content type: 3D
Genre: High Quality VR VR Only Nasty / Hard Blowjob Creampie Cowgirl Subordinate / Colleague OL Exclusive Delivery
ID: JPSVR00034
Average rating: See review
This time, Yuika is coming! This time, cover it from above and do a super close contact cowgirl! Big swaying in front of you! I want you to experience a great sense of closeness! When I woke up, a cheeky junior female employee was shaking her hips and using my to without permission! ?? Speaking of which... For some reason, I ended up drinking with a cheeky junior female employee, and because the last train ran out, he forcibly rushed to my house and drank again..."Oh!!" Did I fall asleep like that...!? But. Why!? "Senpai, you finally woke me up!?I'm sleeping, so even if I give a, the only thing that wakes up is my, so I started having sex without permission!" That kind of... Why!? You were always complaining about me not being able to work...!? "You don't know yet, you don't come to your house if you don't like it, do you?" To be honest, I could work even though my juniors were doing my job, and I was annoyed because they made fun of me all the time... Such lascivious, soft and cute ... And they like me! What the hell... That's too foul and too cute! !! Naturally, I was robbed of everything in my mind and body, and I would be defeated! I shook my hips while covering and cowgirl, rolled up my hips over and over again, and ended up vaginal shot! !! Rub and suck on soft! Even more excited by the beautiful god ass & constriction of the junior girl who shakes her hips in the back! Even if you wake up in the morning, you won't wake up excited, and you can't imagine that a junior girl who was so cheeky would look so cute ... I forgot about the company and refills over and over again from the morning! Naturally, we didn't tell the company...