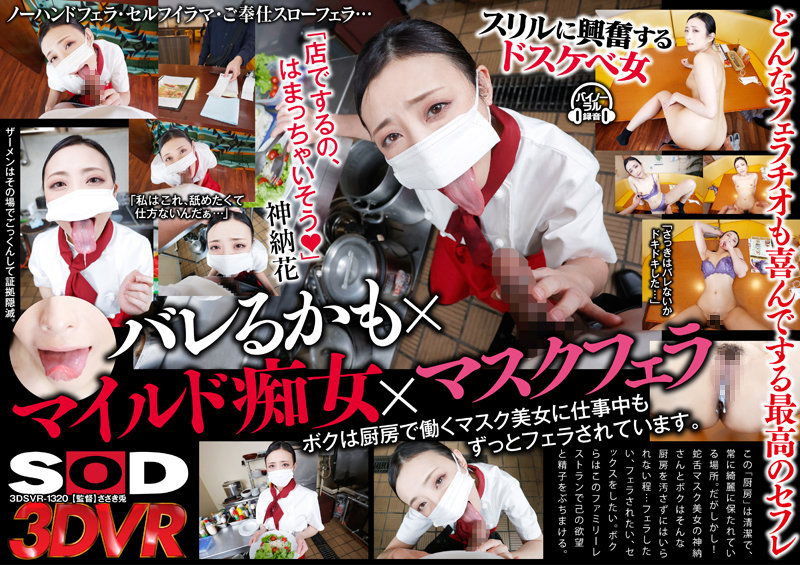 Information
[DSVR-1320] 【VR】I'm being blown by a mask beauty who works in the kitchen all the time while working Hana Kanno
Delivery start date: 2023/07/17
Product release date: 2023/07/17
Length: 88min
Cast: Hana Kanno
Director: Usagi Sasaki
Series:----
Studio / Producer: SOD Create
Label: SODVR
Content type: 3D
Genre: Solowork High Quality VR VR Only Dirty Talk Outdoor / Exposure Slut Waitress Deep Throat
ID: 13dsvr01320
Average rating: See review
Hana and I work in the kitchen of a family restaurant in the countryside. We working in the same kitchen and had a 'close' relationship.
Shift the time to leave the store a little bit at the end of the shift. Meet at a nearby convenience store. The two of you go home to me. Have sex. This was the routine.
But one day ... Do you want to do erotic things at work!!! Such a good feeling grew in us.
Finally we were in the kitchen. I wonder why... Better than 、、、、 do at home. This is what it means to open a new door.
She pulls off her mask. Even if someone comes, they don't take everything to get back to their posts right away. He pulls down the zipper of my pants. Then,, which has long since become gingin, appears. She looks at me and smiles happily.
Her tongue is long as a snake and simply erotic. That long snake tongue wrapped around my and didn't leave, and even came with a mask, and I felt the visual excitement and thrill that I couldn't get in a dark room with the usual lights turned off.
Someone might come... But her that doesn't stop. A nasty mouth that wraps around and sucks to the back of the throat and does not let go. There is no man who can put up with such a dangerous.
In the kitchen, under the cash register, in the store after closing... Our curiosity and sexual desire that heats up never stops...