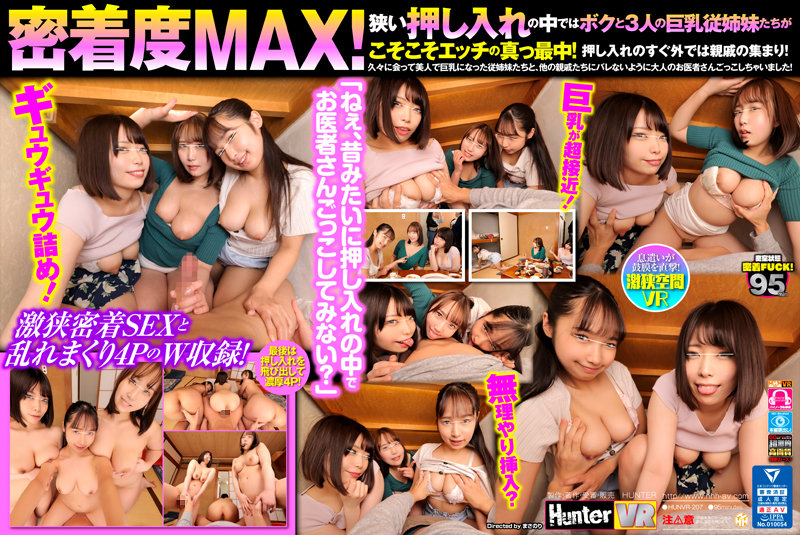 Information
Full HD [HUNVR-207] [VR] "Hey, why don't you play doctor in the closet like in the old days?" In the narrow closet, I and my three busty cousins are in the middle of sex! Just outside the closet, relatives gather! Cousins who have met for the first time in a long time and have become beautiful and busty, and other relatives ...
Delivery start date: 2023/08/22
Product release date: 2023/08/22
Length: 95min
Performer:----
Director: Masanori
Series:----
Studio / Producer: Hunter
Label: HHH-VR (HHH Group)
Content type: 3D
Genre: High Quality VR VR Only Blow Cowgirl Nasty / Hard 3P / 4P Creampie Big Tits Exclusive Delivery
ID: hunvr00207
Average rating: See review
"Sex is only possible when you hide in the closet ...."The secret in the dim narrow closet is the most exciting with a high degree of adhesion! This time, I would like you to experience this dream situation! The content that bothers me is ... My family gathered for the first time in a long time due to a legal matter. The three cousins I see for the first time in years are all beautiful! And big! The drinking progressed nicely, and the topic of the closet that my cousins and I spent "playing doctor" as a child became a hot topic. When the four of us entered out of nostalgia ... Unlike those days, it is a very narrow closed room space! When I was thrilled by the feel of the six touching my body, my cousins said, "Why don't you play adult doctor?" "How about the teacher~?" is rubbing my, which are much bigger than those days, but behind the fusuma are my parents and relatives and I am in the middle of a drinking party! !! The cousins who still can't stop ask, "Should I also examine the doctor's dick?" and "Should I get the doctor's injection~?" It escalates to a doctor play in a closed room state that is more naughty and thrilling than back then! !! My cousin and I are at the height of excitement and can't stop anymore! !!