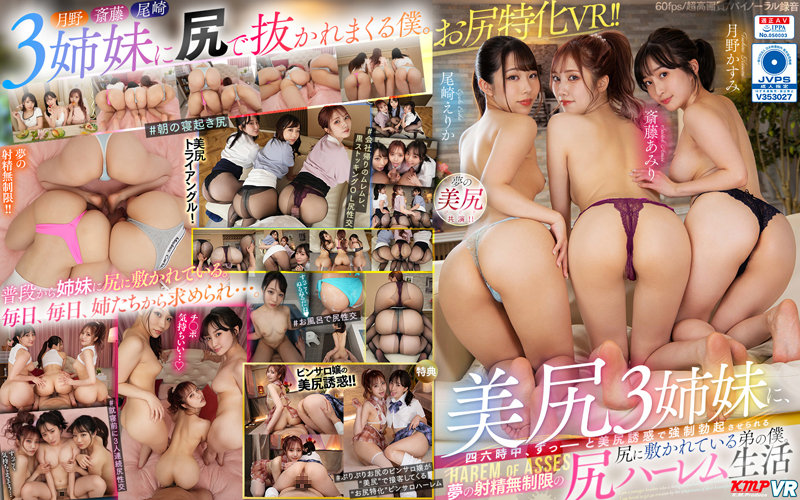 Information
Full HD [VRKM-1054] 【VR】My brother's servant who is laid on the buttocks by the three beautiful ass sisters. All the time, a dream ejaculation unlimited butt harem life that is made strong ● erection by beautiful ass temptation Erika Ozaki, Amiri Saito, Kasumi Tsukino
Delivery start date: 2023/09/02
Product release date: 2023/09/02
Length: 244min
Cast: Erika Ozaki, Amiri Saito, Kasumi Tsukino
Director: Pinsaro Love Suzutake Yazawa Receive
Series:----
Studio / Producer: K M Produce
Label: KMPVR
Content type: 3D
Genre: 4 hours or more work High quality VR VR exclusive distribution Creampie Cowgirl Beautiful breasts Ass fetish POV
ID: vrkm01054
Average rating: See review
Dream beautiful ass co-starring harem VR work!
I am pulled out by my ass by three sisters (Tsukino, Saito, and Ozaki).
She is usually laid on her ass by her sisters. Every day, every day, my sisters ask for me...
Corner configuration
#朝の寝起き尻
#会社帰りのムレムレ, black stockings OL ass
#お風呂で尻性交
#就寝前に3人連続尻性交
performer
Kasumi Tsukino
Eldest daughter. From a university with a high deviation value, he worked for a major general trading company. I have a boyfriend.
He looks serious and neat, but he's actually. She is kind to me.
Easy to get carried away. I like the hard piston in the back.
Amiri Saito
Second daughter. This is my second year with the company. He works for the same cosmetics company as Ozaki.
There are many saffles in the company. Likes to seduce and tease guys. S series. Adult toy lover.
Erika Ozaki
3 girls. New employee this year. She looks like a gal and works for a cosmetics company.
Likes to seduce and tease guys. S series. He is cheeky and commanding to me.
Special Bonus VR
Miss Pinsalo with a plump ass serves customers with a 'beautiful butt' 'butt specialization' pinsaro harem.