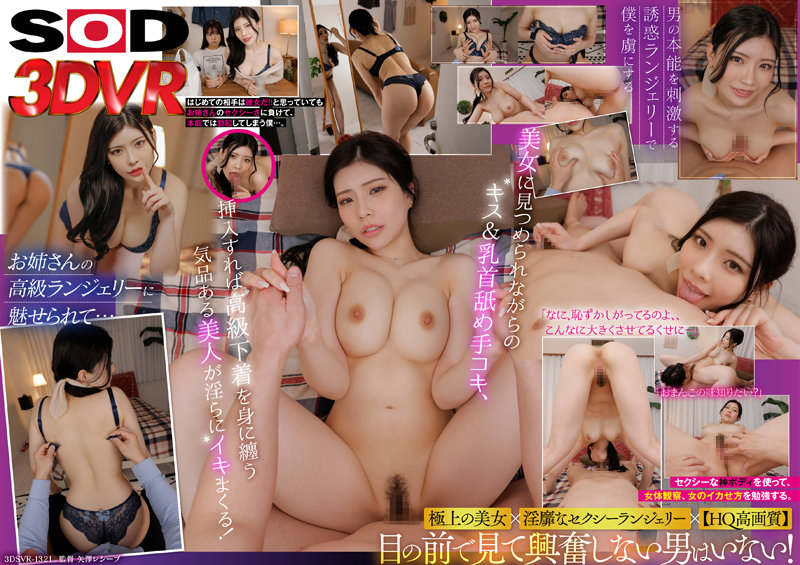 Information
Full HD [DSVR-1321] [VR] When I stayed at her house, I got an erection in my sister's temptation lingerie ... I had sex before she did. SODstar Rei Kamiki
Delivery start date: 2023/09/14
Product release date: 2023/09/14
Length: 87min
Cast: Rei Kamiki
Director: Yazawa Receive
Series:----
Studio / Producer: SOD Create
Label: SODVR
Content type: 3D
Genre: Solowork High Quality VR VR Only Creampie Lingerie Slut Big Tits Older Sister
ID: 13dsvr01321
Average rating: See review
Superb God BODY Beauty × Nasty Sexy Lingerie× [HQ High Quality] There is no man who is not excited to see it in front of him!
Her sister who captivates me with seductive lingerie that stimulates the male instinct.
I stayed at her house for the first time. Chatting in her room, it was kind of a nice atmosphere. Today is the time to abandon your virginity! If you try to follow the flow of sex,
"I have a sister today, so I can't do it," she refuses.
In an awkward place, a beautiful sister came in.
"I want you to lend me a little lotion...??" and the atmosphere is somewhat awkward.
Her first opponent is her!! Even if I think that, I lose to my sister's sexiness and get an erection on instinct ...
When I tried to go to the bathroom, my sister's room was open.
She was wearing so sexy underwear、、、
"Hehehe, you couldn't have sex, right, and you're a virgin, aren't you?"
"Sex is important, because it makes your body compatible and lasts longer or breaks up early、、、"
Using a sexy god body, observe the female body and learn how to make a woman together.
Rei Kamiki Next Generation VR Queen VR 2nd work.