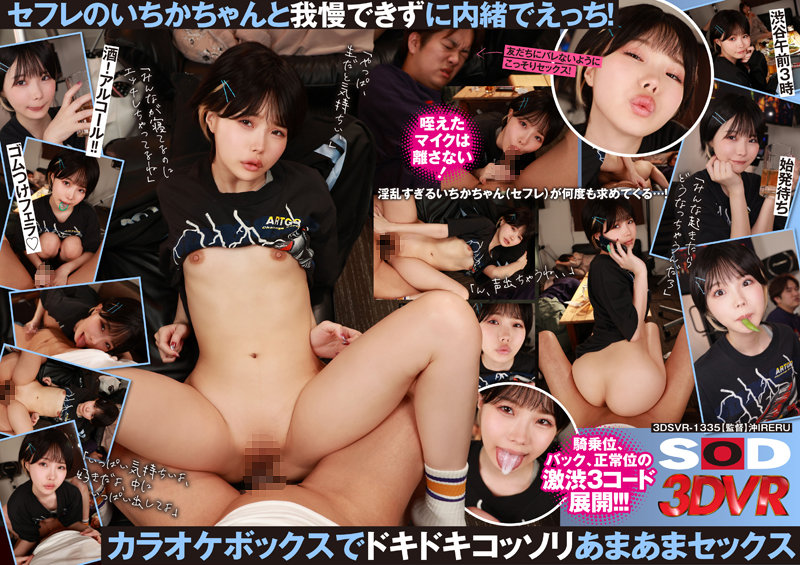 Information
Full HD [DSVR-1335] [VR] Biju's best girl, Ichika-chan, had sex so that everyone in the circle who was drunk and sleeping at karaoke wouldn't find out ... #ボーイッシュ #カラオケSEX Ichika Matsumoto
Delivery start date: 2023/08/24
Product release date: 2023/08/24
Length: 90min
Cast: Ichika Matsumoto
Director: Oki IRERU
Series:----
Studio / Producer: SOD Create
Label: SODVR
Content type: 3D
Genre: Solowork High Quality VR VR Only Club Activity / Manager College Girl Slender Drinking Party / Joint Prank
ID: 13dsvr01335
Average rating: See review
[Short and boyish Matsumoto Ichika Chan and Ecchi VR]
The third party waiting for the last train, at a karaoke shop.
There is one reason why I remain until the end of a drinking party where I am too drunk and lacks excitement.
That's because 'Ichika' is there.
Even if someone is singing at karaoke, I'm not interested in that kind of song.
I only see a few things, I'm not interested.
My relationship with her is...
It seemed special in a way, natural in a way. Or it was very important for college students.
That's right.
They're friends who also have sex.
Are you drinking to have sex or do you have sex to drink? Or college students, but I was enjoying a kind of codependent complicity in a moratorium.
I'm thinking about how difficult it is, and I'm sure I'm in love with her.
I'll fall in love with that, because it's cute.
Why are you having sex with me when you're so cute?
Is it because the boarding house is near the university? Is it because I'm harmless to humans? What am I to her?
Someone is singing like an idiot, and just one centimeter into my ear, she throws a secret word at me ~ as I listen to it vaguely. Words that should not be heard by everyone. Her voice and sigh came through my ears and my head melted.
Before I knew it, everyone except me and her was in a dream. No, am I in a dream?
While everyone was sleeping, Ichika Chan and I started sex eroticism ~!
It's really Ichika-chan too cute Ngo ~!!! It's really cool!!!