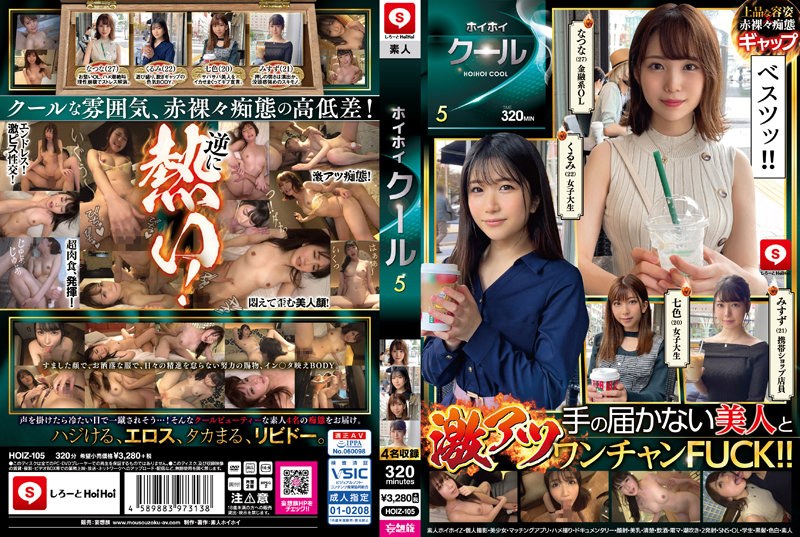 Information
Full HD [HOIZ-105] Hoi Hoi Cool 5 Amateur Hoi Hoi Z / Personal shooting / Beautiful girl / Matching app / Gonzo / Documentary / Facial cumshot / Beautiful breasts / Neatness / Drinking / Electric massage machine / Squirting / 2 shots / SNS / OL / Student / Black hair / Fair skin / Amateur
Release Date: 2023/11/21
Length: 320 min(s)
Performer:----
Supervision:----
Series: Hoihoikur
Studio / Producer: 素人ホイホイ/妄想族
Label: 素人ホイホイ/妄想族
Genres: Beautiful Tits Beautiful Girl Documentary Amateur POV Over 4 Hours Sample Video The delusion group
Item code: HOIZ105
Average Rating: Average Rating:
Related Tags: See Review
If you talk to them, they will dismiss you with cold eyes ...!
We will deliver the foolery of four people who are full of such a "beautiful feeling that cannot be reached".
With a slender face, stylish clothes, and the result of efforts that do not neglect daily dedication, an in-looking BODY.
- Cool atmosphere, the height difference of naked foolery! This eros is hot, hoi-hoi-cool!
Natsuna (27) Financial office lady. Weekday divergence is weekend drinking, duality. - A stiff office lady, squirrel tide screams and relieves stress with rational collapse.
Kurumi (22) is a fourth-year university student. - The contents are unfussy and have a boyfriend. Wang Nai is not cheating, my rules. - Playful, undressing gap sex appeal BODY.
Nanashiki (20) is a second-year university student. The bottom story is also open. - Love is from the body, and the beauty of Saba Saba is squid and gives declaration. - I don't care because I'm already in a state ...
Misuzu (21) is a mobile phone shop clerk. From the beautiful appearance, the contents are super unfussy. Moderate carnivorousness. The weakness of the push is a production, or a sukimono with a strong sense of immersion.
If you melt your heart and become a hadaka, the temperature difference of super hot foolery MAX.
If any beautiful woman inserts a dick, she will writhe and distort her beautiful face!
Make full use of the app to make full use of miracle matching, one-night documents that are too small, and a collection of beauties!