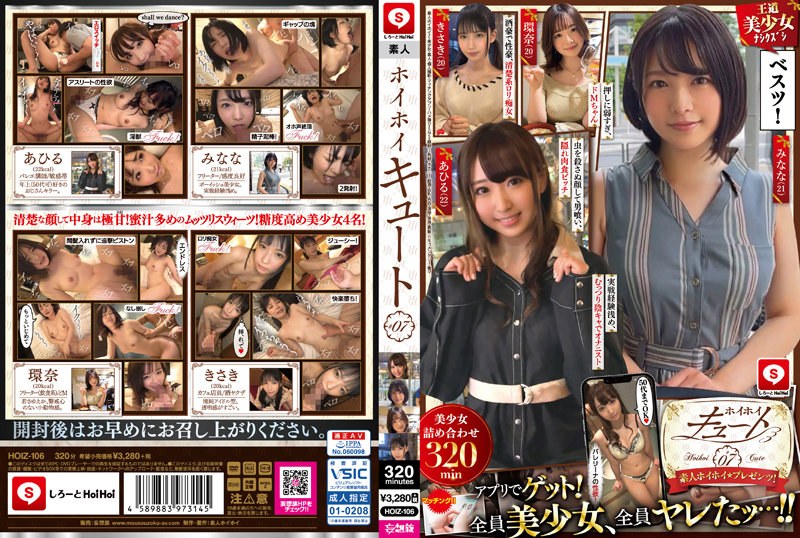 Information
Full HD [HOIZ-106] Hoihoi Cute #07 Amateur Hoihoi Z, Beautiful Girl, Amateur, Personal Shooting, Matching App, Gonzo, SNS, Facial, 2 Shots, Masturbation, Drinking, Big, Fair Skin, Neat, Tall, Black Hair, Documentary, Electric Vibrator
Release Date: 2023/11/21
Length: 320 min(s)
Performer:----
Supervision:----
Series: Hoi Hoi Cute
Studio / Producer: 素人ホイホイ/妄想族
Label: 素人ホイホイ/妄想族
Genres: Beautiful Tits Beautiful Girl Documentary Amateur POV Over 4 Hours Sample Video The delusion group
Item code: hoiz106
Average Rating: Average Rating:
Related Tags: See Review
Blow away the sense of immorality! Youth is justice, it's time to eat, it's time to spear, now is the season!
Curiosity due to youth heading in many directions, squeeze it into Eros and catch hoihoi!
Duck (22) / Ballet instructor
A man-eater with a face that doesn't kill insects.
An uncle killer who likes older people (50s).
- A libido gap that makes a flexible body to the fullest and writhes in agony.
Mina (21) / Part-time worker
Boyish beautiful girl.
- Two successive boyfriends, inexperienced in actual battles, sullen and yin and onanist.
- Drop the delusional erotic level into reality, drool, shake your hips, sudden change instinct SEX.
Kanna (20) / Part-time worker (food and beverage)
Charming, perhaps because of his youth, he feels like a small animal without vigilance.
Even if the idea of chastity is hard, it is broken through by the weakness of the push and the good sensitivity.
- M's throat erotic chan.
Kisaki (20) / Cafe clerk
Pure idol type, the transparency is amazing.
Waiting for drunkenness at the Sake Lovers Strike Can Gap.
- From the bottom story that loves ona, to the actual battle, she becomes a curiosity-based loli.
- Pure face and strong libido, this is erotic!
It has a neat face and the contents are extremely sweet. Mutz Lissweets with a lot of nectar juice.
- 4 beautiful girls who are too juicy and have a high sugar content!
Consume as soon as possible after opening.