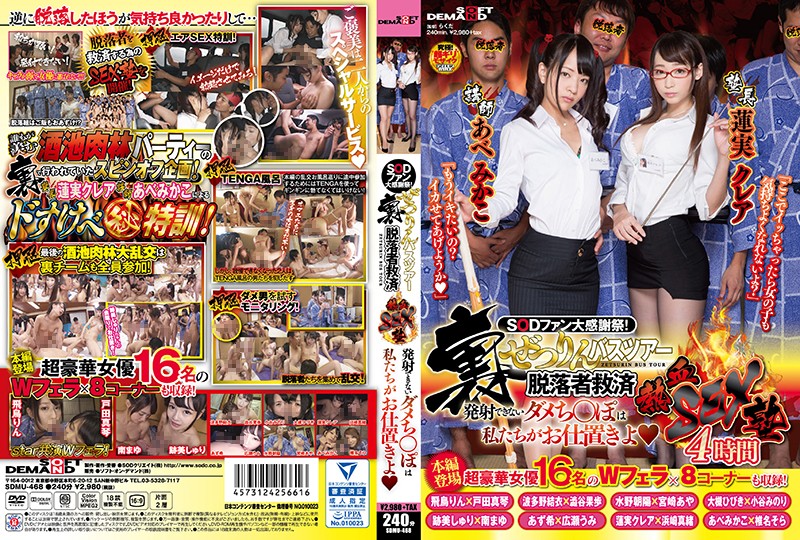 Information
[SDMU-468] SOD fans great Thanksgiving! Back zetsurinn bus dropouts relief hot SEX school launch cannot be bad poop ○ is our punishment. ◆ W blowjob story appeared gorgeous actress 16 × 8 corner also includes!
Type: DVD
Release date: 2017 / 01 / 06
Length: 240 min
Performers: Abe in this Lotus real Claire Asuka Rin Toda Makoto Hirose UMI southern eyebrows Hamasaki Mao Kotani Minori Shibuya play Ayumi Miyazaki Aya ▼ view all
Directed by: camel
Series: SOD fan thanks for the great festival!
Manufacturer: SOD create
Labels: SOD create
Genre: orgy planning and other fetish blow job 4 hours work sample videos
Item number: 1sdmu468
Average rating: write a review
History of the SOD of the strongest fans great Thanksgiving! Participants no longer weakly selected characters at the back of the Dames tour envied anyone actress dropped out, Bo new no participants dropped during ejaculation is harsh SEX school was being held! However, there are Lotus real Clare Chan and Abe were kakocha, stick to feeling better after dropping to reverse de sexual secret training in...